On October 19, 2012, 22 students across all majors (and some minors) in the School of Humanities and Social Sciences gathered in the Library Auditorium to be honored by the Dean, Department Chairs, faculty, family, and friends for their scholarly accomplishments at the Fall 2012 Academic Achievement Awards.  These students, all graduating in Spring 2013, have exemplified academic excellence both inside and outside the classroom during their time here at TCNJ.
The award recipients are as follows (listed alphabetically):
Joi Amico – Academic Excellence in Criminology
Emily Brahan – Outstanding Research Scholar Award in Psychology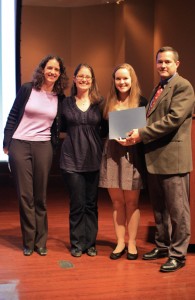 Emily Braham has worked with Dr. Lisa Grimm for five semesters on the impact of motivational states and rewards on various tasks.  She presented one such study at a regional psychology conference last March. She also helped design and conduct an independent study to assess the impact of exposing women to different percentages of women in the field of science.  A portion of this independent project has been submitted for publication, and she will present her work at Psychonomics (the premier Cognitive psychology conference) in November.  For her senior honors thesis, Emily is exploring two possible explanations for her independent project data.  Emily is also involved in research about collective with Dr. Shaun Wiley. She is helping to write up the results of two previous collective action studies for publication.  Emily is also designing her own future study that will examine the impact of motivational states (Dr. Grimm's area) on individuals' willingness for collective action (Dr. Wiley's area).  Finally, during her semester abroad at the University of Limerick, Ireland, Emily worked with Dr. Eric Igou on studies on boredom and the search for meaning. Emily will be graduating this December and is currently applying to Cognitive PhD programs.
Leo Capoferri – Academic Excellence in Philosophy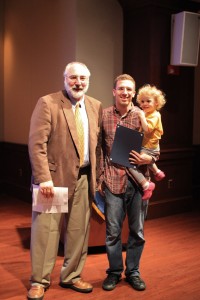 Leo Capoferri's performance in his coursework in philosophy and overall has been  impressive. He comes to class with a ready grasp of the assigned material wrote lucid and well-argued papers, and did superior work on tests. In particular, 1) He is very good at presenting arguments for positions he holds, while cognizant of arguments for opposing positions; 2) He is a clear and often eloquent writer; and 3) He is admirably open to constructive criticism and responds well to criticism.
This achievement is all the more remarkable given that he has faced challenges that most TCNJ students do not face. Leo has been financially independent for the past six years, working at least one part-time job since he was thirteen, and has worked full-time since he was twenty-one. Unlike the vast majority of our students moreover, he is also married and the father of a young daughter. These personal circumstances make his academic achievements all the more impressive.
Matthew Carlson – Academic Excellence in Arabic Minor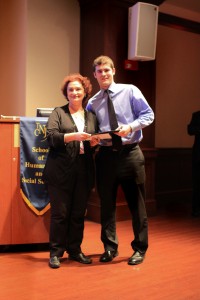 Mathew Carlson is more the quiet type. It is his consistently high level of performance in class and as an instructor and tutor that I realized his outstanding capabilities and his seriousness about learning Arabic.  Mathew was awarded the prestigious Clinton Scholarship to study abroad. He spent last semester in Dubai in the United Arab Emirates, a major global financial center. Mathew is a business major and his Arabic minor will surely strengthen his aspirations.
Mariko Curran – English Award for Best Essay in Research and Theory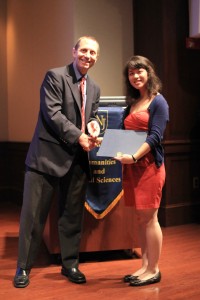 The winner of the English Award for Best Essay in Research and Theory is Mariko Curran for her essay "The Hunt for Subjectivity: Androcentrism, Anthropocentrism, and the Girls Who Stride Wolf," faculty sponsor Professor Larry McCauley.  Mariko's essay is a highly original ecofeminist analysis of short stories by Karen Russell and Angela Carter.  Notable for its theoretical sophistication and logical precision, it explores how these authors subvert hierarchies which privilege the human over the non-human and the masculine over the feminine.
Mariko is an English Liberal Arts major with minors in Economics and Professional Writing.
Mariko Curran – Professional Writing Award
The winner of the Professional Writing Award is also Mariko Curran who, in addition to all the above, has written extensively for The Signal and performs with the College Chorale
The Tiffany Award is given in honor of Emeritus Professor Arthur Tiffany to a rising senior who has demonstrated exceptional ability in expository writing about media or public information.  The winner is selected by members of the Journalism and Professional Writing faculty.
Mary Jane Dempsey – Academic Excellence in Italian Minor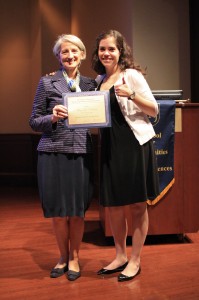 Mary Jane Dempsey is a double major in History and International Studies, with a burning passion for Italian. As she entered college, she decided to pursue her passion first enrolling in ITL 101 and then traveling to Siena to attend the summer courses at the local Universita' per Stranieri. Her Italian improved so much that she could without effort read Italian newspapers and political and historical articles. With the financial support of the Roebling scholarship, Mary Jane returned to Italy, where she spent the spring semester 2012 studying at Bologna's Spring Hill College. There, she completed a research on immigration and citizenship, an issue that has taken center stage on the political and social agenda of Italy in the last year. To conduct her research, Mary Jane interviewed both community organizers and children of immigrants, volunteered in a local soup kitchen, and connected with immigrant writers. When she returned to the US, she met with Fred Kuwornu, director of the documentary Jus Soli, a film that explores the very same issue of immigration and citizenship. In October 2012, Mary Jane presented her findings to the TCNJ community. The presentation was the first of the Student Spotlight series, which highlights research conducted abroad by students in the Italian program. Upon graduation, Mary Jane hopes to return to Italy to teach English. To that end, she has applied for the Fulbright Scholarship. A stellar student, a respected Oral Proficiency Leader, a member of the History Honors Society, and a leading member of the Italian Club, Mary Jane has demonstrated to be an exemplar member of the TCNJ intellectual community. We wish her the academic and personal success she deserves. BRAVISSIMA! 
Courtney Farrell – Academic Excellence in Spanish-Secondary Education Dual Major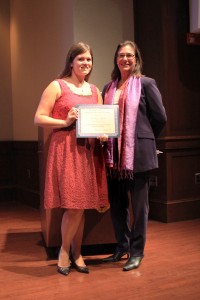 Courtney Farrell – Dr. Compte also met Courtney in her first semester at TCNJ in SPA 203, and it was readily apparent that Courtney had an exceptional talent for languages, and not only in Spanish. Her first semester she took two Spanish courses, and also started Italian. Courtney is in the Honors Program, and spent a semester abroad studying at the University of Valencia, Spain. In the summer of 2012—this past summer—she took four courses at the International University in Torino, Italy. She was invited to join Phi Beta Kappa as a junior last year, which is a real distinction. She is currently doing her student teaching this semester. Dr. Compte says we are very proud to graduate future teachers with the type of talent and passion that Courtney has, knowing that they will prove to be an inspiration to others. Congratulations!
Alyssa Fountain – Alice Paul Award for Activism (Women's and Gender Studies Department)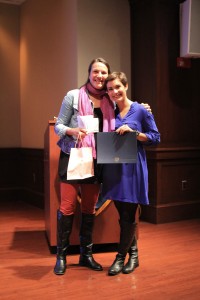 Alyssa Fountain is a double major in WGS & Psychology. She holds a research assistant/lab manager position in the ELR psych lab. She is a member of the women's center and WILL, where she serves as the community service chair. She is the president of TRIOTA and has been instrumental in developing new programming, including organizing the grad school A to Z event and participation in the upcoming International Dessert Night. She is a summer 2012 MUSE recipient in which she worked on a digital project to map women's contributions to the liberation struggle in Tanzania – The Virtual Freedom Trail Project (VFTP). She was a participant in the first TCNJ field study program to Tanzania. She will return to Tanzania this summer with generous support from the Digital Humanities Initiative (DHi – a Mellon Funded program) at Hamilton College to continue her interview and digital archival research. Next month she will present, along with Dr. Jaksch, her research on the Virtual Freedom Trail Project at the NWSA conference in Oakland, CA. She has submitted her paper on indigenous knowledge in research and development in Tanzania for consideration in the TCNJ Journal of Students Scholarship.
Emily Fung – Outstanding Student in Sociology
Emily Fung (Sociology) – Emily Fung is receiving the award for Academic Excellence in Sociology because of her willingness to learn, her proven excellence as a scholar and researcher, and her insightfulness into society and life around her. Emily is currently spending the semester in Hong Kong learning Chinese and taking courses on Chinese society.  Emily works in a thoughtful, quiet manner but with a lot of heart and total dedication to the task at hand.  In addition to Emily's assistance with various research projects in the Department of Sociology and Anthropology, Emily also offers tutoring assistance for Biology and Organic Chemistry. Emily has served as co-Chair for Mystique, a large student-run cultural show, works with the Asian American Association and has been a resident of the International House for the past two years where she helped run activities.  As a member of Phi Beta Kappa, Emily is also the recipient of both the Roebling and Laurenti Scholarship to study abroad.  While in Hong Kong, Emily is volunteering to tutor local teens in English. While not entirely sure of what her future holds, Emily would welcome a chance to return to Asia to work after graduation.
Bryan Furman – Academic Excellence in Russian Studies Minor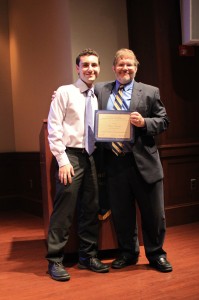 Dr. Benjamin Rifkin, Dean of the School of Humanities and Social Sciences, is also Professor of Russian.  In presenting the award for academic excellence in the Russian Studies Minor to senior Bryan Furman, Rifkin said:
I have been teaching Russian at the college level for 27 years and have worked approximately 4000 students of Russian in my own classes or in classes in programs I was directing at the University of Michigan, the University of Wisconsin, TCNJ, and the Middlebury College Russian School.  Bryan Furman is the very best student of Russian I have ever encountered.  Not merely in the top 1%, not merely one of the best, but the single best student of Russian in all those years.  I would like to take credit for this, but Bryan did it all on his own.  After a summer at the Middlebury Russian School he took a year-long independent study with me in advanced Russian and during that time improved so much that by the end of the year I was reduced to correcting the commas in his essays.  He returned from Moscow with Russian so advanced that I felt I had nothing more to teach him, but Bryan suggested an independent study investigating the image of the Caucasus in Russian literature.  That is a topic I would have assigned to a graduate student of Russian at UW-Madison.  Not a graduate student in the first year and not a graduate student in the second year, but a third year graduate student.  Bryan won a Boren Scholarship to study Russian in Moscow in 2011-2012 and a Foreign Language and Area Studies Fellowship to study Persian at UW-Madison in summer 2012.  I know his future is bright and he will go on to great success.
Bryan Furman – International Studies Award for Academic Excellence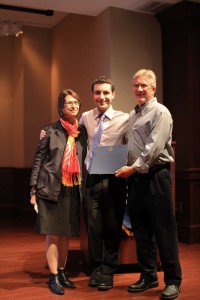 The International Studies Program is extremely proud of Bryan Furman, who has earned the 2012 International Studies Award for Academic Excellence.  Bryan is an interdisciplinary scholar: a double major in International Studies and Psychology and a double minor in Central  Eurasian Studies and Russian. He has outstanding language skills, having achieved superior proficiency in Russian and advanced level in Persian. During his one-year in Russia, with the support of a National Security Education Program Boren Scholarship he studied advanced Russian, interned at the Carnegie Moscow Center where he translated documents and conducted research on post-Soviet issues, and carried out an independent research project on the effects of nationalism and religiosity on Russian-Muslim relations. He is currently preparing an article for publication based on the results of the latter project. This year Bryan is an E-intern with the U.S. Embassy in Tajikistan, for which he has organized an initiative at TCNJ to bridge Americans and Tajiks via social media, entitled, "Time for Tajikistan", Bryan's goal is to attend graduate school in an area-studies program in Central Eurasian and post-Soviet Studies, and ultimately, to pursue a career in the Foreign Service. Bryan is a leader in the International Studies major, serving as a peer mentor and an inspiration to other students.  We commend him on his outstanding achievements.
Halli Gerin – The Laureate Prize
Halli Gerin is an outstanding student who is majoring in Philosophy, as well as carrying an Interdisciplinary Concentration in Classical Studies and a minor in History.  She is also the President of the Classics Honors Society, Eta Sigma Phi.  Halli wins our Junior Laureate Prize this year for an excellent essay entitled "The Luckiest Husband: Jason in 'Medea'".
Meagan Goodman – Academic Excellence in Chinese Minor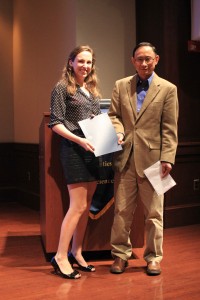 Meagan Goodman represents the best qualities a TCNJ student should feel proud of: ambitious, challenging and engaging with the world.  Meagan is completing two majors (an International Studies major and Economics) with a minor in Chinese Language and East Asian Studies Concentration. She is a recipient of a TCNJ Merit Scholarship and has been on the Dean's List every semester. She is a member of Beta Gamma Sigma Business Honor Society, Sigma Iota Rho International Studies Honor Society, and Golden Key International Honor Society.   In the Fall 2011, She earned the Roebling Scholarship for Study Abroad at East China Normal University in Shanghai.   During her time in Shanghai, she completed an internship at a multinational company based in both San Francisco and Shanghai.   She also volunteered with other international students for Habitat for Humanity China while visiting the Guangdong Province.   She is currently participating in a year-long internship program at an investment management consulting firm called The Concord Advisory Group in Princeton, NJ.   Her goal is to earn a career at an investment management firm as a Research Analyst specializing in Asian Emerging Markets, particularly China.   She has a passion for learning foreign languages, and hopes to continue to be a lifetime student of Chinese language.
Brandon Gould – Robert Cole Prize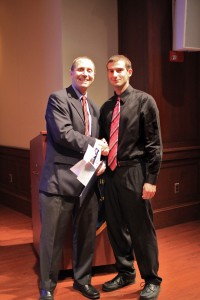 The winner of the Robert Cole Prize is Brandon Gould.  Brandon writes for the Signal as well as TCNJ Magazine and TCNJ News (College Relations), plus the TCNJ Sports website. Last year he won a New Jersey Press Association award for column/opinion writing.  Brandon is a Journalism and Professional Writing major with a minor in Criminology.
Kimberly Horner – Tiffany Award for Journalism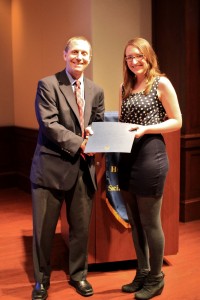 The winner of the Tiffany Award is Kimberly Horner.  Kimberly is involved in campus theater and is interested in a career in broadcast journalism. She did a broadcast internship at PHL-17 in Philadelphia this past summer and is interning this semester with our own Tammy Tibbetts. As part of that effort, Kimberly is campus coordinator of a TCNJ chapter of Tammy's non-profit, She's the First, http://www.shesthefirst.org/, which raises money to fund education for girls in developing countries. Kimberly is a Journalism and Professional Writing major with a minor in Communications.
Jenna Leopold – Academic Excellence in Spanish Minor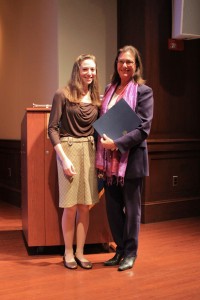 Jenna Leopold is a Spanish Liberal Arts major with a very enviable 3.95 GPA. Dr. Compte first met Jenna in her first semester of her freshman year, and she'd like to think that she helped draw such a talented student to major in Spanish. Jenna is currently the Department of World Languages and Cultures Peer Mentor, which is a position we entrust to our strongest students. In this role she is available on a weekly basis to meet with students to answer questions related to the Spanish major. Jenna is also a member of the Spanish Club and the Spanish Honor Society, Sigma Delta Pi. Our Co-chair, Dr. Rosman- Askot, who could not be here this evening wrote the following: "Jenna is an accomplished student with an innate intellectual curiosity.  Her work is stellar. She is the kind of student who raises the bar by consistently producing impeccable work.  She is most deserving of this award!"
David Rothman – Outstanding Research Scholar Award in Psyhcology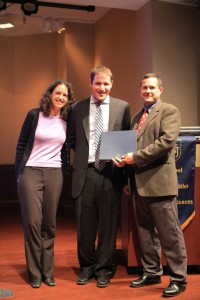 David Rothman has worked with Dr. Jean Kirnan for two semesters on various departmental and college-wide assessment tools.  He also co-authored with Dr. Kirnan a review of the "Career Transition Inventory" which will appear in the 6th edition of A Counselor's Guide to Career Assessment Instruments.  David has also worked with Dr. Ashley Borders for four semesters investigating the causes and consequences of rumination, particularly in Veterans.  He presented one such study at a regional psychology conference last March.  He is co-authored and is also second author on a different study with Veterans that is currently under review for publication.  Last summer, David volunteered the East Orange VA Hospital in NJ and became involved in several research projects.  He came up with the idea for a project on unit cohesion and post-deployment coping. He will be an author on that paper, and he is planning on submitting that study as a poster presentation to a national psychology conference this coming May. David will be graduating this December and is currently applying to Clinical PhD programs.
Rachel Santitoro – Political Science Academic Achievement Award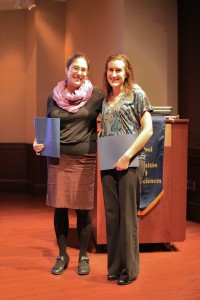 Looking at Rachel Santitoro's accomplishments on paper, one can get some sense of how accomplished she is. She has done exceptionally well in all of her coursework, with many challenging classes among those she has taken. She has done this all while taking on a significant amount of community service: she is President of Circle K at TCNJ, an international service organization; she has participated in TCNJ's Leadership Development Program; and she has served the community and state with Meals on Wheels and the New Jersey Department of Environmental Protection.
But to have taught her inside the classroom shows how truly extraordinary and special of a student Rachel is.  I have had Rachel twice – both as a freshman and as a junior.
In my freshman Introduction to Comparative Politics class, I remember she was quiet, though insightful, bright and prepared in class. When I read her first paper, I was taken aback by the clarity of thought, the creativity of the argument and the insights she provided – a rare feat for a freshman in a quite challenging class.
My understanding of Rachel's academic potential grew even further when as a junior she wrote an incredibly cogent, well written paper on legal decisions over gay marriage in various states. She took on an ambitious project and, once again, blew me away with the results. Both in the paper and the oral presentation thereof, Rachel showed a sophistication, professionalization, and clarity incredibly rare at this stage. These sentiments have been echoed by the other Political Science Faculty members who have had the pleasure of having Rachel in their classes. It is therefore with delight that we awarded our academic achievement award to Rachel Santitoro.
Jessica Scardino – Academic Excellence in Religious Studies
J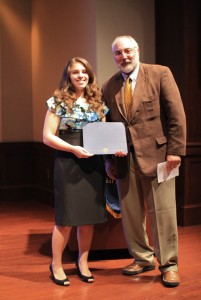 essica Scardino has completed three of five courses for the Religion minor. She is a sociology major, a religion minor, and in the WILL program. Dr. Winston had her as a student in HON 272/Philosophy of Religion in Spring 2011. There she proved to be articulate, well-prepared, and fair-minded. Her Religion minor nicely complements her Sociology Major and her participation in the WILL program, and he wishes her the best for the future.
Regina Storey – Academic Excellence in History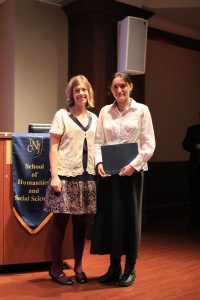 Regina Storey, senior history major was honored tonight at the Humanities and Social Sciences Award Ceremony. Regina received the award for Outstanding Achievement in History, which is given to the top student research paper completed during a student's junior year. Her work "Silk as a Means of Determining Movement in Late Antiquity and the Middle Ages," was written in Prof. John Karras's readings seminar on Late Antiquity.  Regina transferred to TCNJ from Burlington County Community College and has consistently challenged herself and performed with excellence in her history courses.
Seiichi Villalona – Outstanding Student in Anthropology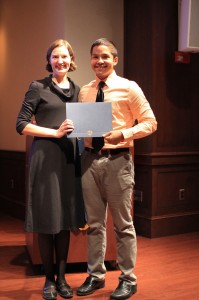 Seiichi Villalona (Anthropology minor) – Seiichi Villalona is an outstanding student of both anthropology and biology.  Having worked as a research assistant for Dr. Rachel Adler on three different projects, all pertaining to the health needs of the Latino population in Trenton, Seiichi was able to gain valuable experience with an issue that he cares deeply about. He is passionate about the pursuit of knowledge and the application of that knowledge to advance social justice.  Seiichi is a leader – he serves as a Community Advisor and Peer Tutor at TCNJ, he is active in student government, the Equal Opportunity Alliance, and TCNJ's EMS team. Seiichi has high expectations for himself and his first rate achievements are testament to that.  Seiichi's future plans are to go to medical school where he intends to give back to the community, his true calling.
Elissa Wu – Academic Excellence in Japanese Minor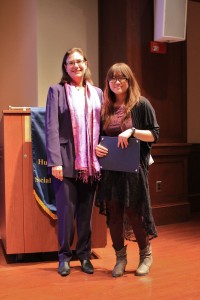 Elissa Wu – Dr. Compte is sorry that she didn't know Elissa Wu, but she's very happy to present the Academic Excellence Award in Japanese to her. What is indeed remarkable is that Elissa started her study of Japanese in Japanese 101, our most basic course, and she is now enrolled in JPN 391, an independent study with Dr. Holly Ogren, the director of our Japanese program. Elissa also spent a semester in Japan at Kansai Gaidai University. To indicate the breadth of her interests, Elissa is an International Studies major, with a minor in Japanese as well as Accountancy.