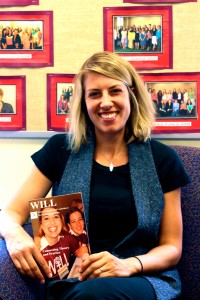 A far cry from her current state of affairs, Dr. Emily Bent of the Women's and Gender Studies department first arrived at TCNJ as a freshman with a penchant for mathematics.
"I was a math major originally. I'm good at numbers so I thought 'yeah…I'll go into math,'" Bent claimed of her early college mentality.
Yet, although she was infatuated with what she expected of a potential career in the field, she swiftly changed this perspective in one of her first math courses.
"The faculty member said 'if you don't like this, then you probably want to rethink whether or not you want to go into math," Bent said, "And I thought 'yeah I don't know if I really like this.' So I ended up dropping all of my courses that semester and I picked up whatever was available."
Bent immediately enrolled in a Gender course, since it happened to fill a Liberal Learning requirement, titled "The Politics of Sexuality" with Jodi Brodsky.
"Something just clicked for me," Bent explained, "It made sense, I was excited about reading the material, I wanted get involved in everything and anything. And I immediately signed up to be a WGS major."
Since the major had just been created that year, in 2001, Bent was truly one of the pioneering students of the program. The next step seemed natural to her: she would soon after become a part of the first graduating class from TCNJ's W.I.L.L (Women in Learning and Leadership) program.
"As soon as I got into, it felt like the thing that I was looking for to ignite a kind of academic passion that I had, but I just didn't didn't know where to…tap into it," Bent said of her initial thoughts once she had settled on pursuing the WGS track.
Arriving on campus as everyone else did freshman year, Bent had the general idea that many other upperclassmen might have been plagued by: once college ended, that was really the end of academics.
"When I came here I was you know 18 and I didn't necessarily have even the thought that I was going to go anywhere beyond (undergraduate study)," Bent explained.
"And as soon as I got into WGS, it was like 'Oh no I want to go on and on and on. I want to get my Ph.D in this.'"
And after graduating from TCNJ in 2003, Bent would go on to get her M.A. from Rutgers in WGS and then continue to Ph.D from the University of Galway, Ireland and returned to the U.S. to conduct her dissertation research, which is now up for the National Women's Studies Association First Book Prize. Bent worked in conjunction with the United Nations' yearly global conference called the Committee on the Status of Women, where she focused on the political subjectivity of girls.
"It basically looked at the 'girl effect,' which is Nike Foundation's two and half minute marketing video about why we need to invest in girls' education and girls generally in the developing world," Bent explained. Her focus then was on a global analysis of girls' rights and she worked to understand "what the 'girl effect' offers to North American girls…and who girls' human rights are for."
As a discipline, then, WGS has from the very start been more to Bent than a one-track framework for explaining the world.
"I'm always looking at the intersections of gender, age, nation, location, and then ethnicity, as well," Bent said. "Part of what I try to do is bring girls' voices in conversation with these larger narratives that are happening around them."
Bent's ability to initiating productive discussion, it seems, was rooted in her first experiences as a WGS major.
"The WGS and the W.I.L.L. programs were the places where I felt like I could be myself," Bent recalled. "They pushed me to advance myself…it wasn't ' this is great, you maintain the status quo.' You're always being challenged to do something new, try something different, put yourself out there."
Now, several years later, the programs have grown in several key ways: the W.I.L.L students have distinct academic expectations and have even been fortunate to participate in several service projects abroad. For example, students this summer went to Nicaragua and were able to fully immerse themselves in the country's non-profit networks relevant to women and children.
Since Bent has come back to TCNJ, it appears that her experience served her interests in more ways than one.
"It's nice to be able to have that background and bring other WGS and WIll students into that space, too," Bent said. "I really loved the idea of being able to come back to TCNJ and teach, so it's been really awesome to come back to (my) home institution and be in…a different role."