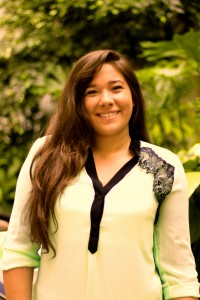 Motivation and passion do not necessarily coincide in students who, as young adults, are reasonably still figuring out their professional futures. However, one student beat the odds and found an academic home in a place outside of the classroom. Namely, prison.
Jaclyn Bennett '13, B.A. in Special Education and Sociology, has come back to the college to obtain a graduate degree in Special Education. While she was studying undergraduate at TCNJ, she took a leap and enrolled in the Prison Education course at Wagner Youth Correctional Facility.
"Since my freshman year at TCNJ, my professors had been explaining that one of the best ways to learn and understand sociological concepts was to see and experience them in real life," Bennett said. "When the opportunity to take a prison class arose, I had thought of what my professors had previously said. I wanted to actually experience something in person."
During her time at Wagner she gave a 45-year-old man his G.E.D. diploma after having tutored him math. He had anger management issues and used laughing to cope when feeling overwhelmed.
According to Bennett, the prison environment was a perfect fit for a student of sociology.
"A term that I had learned a lot about was a 'total institution,'" Bennett said.  "A prison is an example of a total institution."
Bennett continued to soak up what was happening around her and once the course was over she knew she had struck a chord.
"During and after the prison sociology class, I began to develop questions and ideas," Bennett said.  "I started to think about prison education and its connection to the recidivism rate. I learned that prison education may be an important connection to helping lower the recidivism rate."
Then, for her senior sociology Capstone project, she conducted an internship at the Mercer County Correction center. Now she is back with the hope of teaching prison inmates once again for her graduate practicum experience.
"More generally, my professors taught me how to think outside of the box," Bennett said. "In my experience, TCNJ professors really motivate their students to reach for non-conventional ways of learning."
With the support of her professors, such as Dr. Blumberg, her desire to find an unusual experience was bound to be fulfilled.
"Throughout my time in HSS, I have learned to be an independent thinker and to take the initiative to create opportunities for myself," Bennett said. "From the guidance of my professors, I have learned to create important network connections and to never give up on ideas that may be different from the norm."