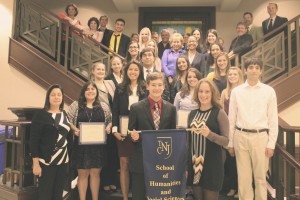 This year at the Fall Awards for Academic Achievement more than 20 undergraduate upperclassmen in the Humanities and Social Sciences were recognized for their unique scholarly contributions.
Above all it is clear that these students are privy to a passion for understanding that has fueled their individual successes at TCNJ.
"My wanderlust attracted me to International Studies," said Matthew Knoth, senior International studies and Spanish double major and winner of the I.S. Award for Academic Excellence. "I have always had a passion for languages and connecting with people from different cultures."
Another student, Danielle Bazer, senior and Outstanding Student in Anthropology, explained that it was an introduction level class which got her hooked to her current trajectory.
"I was always interested in learning about people from different cultures and backgrounds ever since I was young," Bazer said., adding that when she found anthropology her mind was set. "I was looking for a major that would combine my interests in cultures, language, human evolution, and public health/medicine."
But perhaps many, if not most, students don't have a single clue where their interests lie. For these wandering souls, Outstanding Student Sociology, Jessica Scardino, with her many campus and national accolades, has a two-fold suggestion.
"First, get to know your professors. They are here to help guide you and open your mind to new ideas and possibilities," Scardino explained. "Second, don't be afraid to try new academic experiences. If you are thinking about taking a 300-level course in a department outside of your major, try it. Become genuinely committed to the intellectual process, even when it seems nerve-wracking."
Although for Knoth, who studied abroad for a year during his time as a TCNJ student, one semester in Argentina and then one in Germany, it is more than curiosity which replenishes the academic spirit. According to him, a healthy sense of the world opens the mind to unimaginable wonders.
"I feel that more students need to 'go for it' and experience life beyond our nation's borders," Knoth said. "Don't be hesitant to take that leap or step outside your comfort zone. It may be fun, or (it might) introduce you to someone new, or even impact your life…you won't know unless you try."
The other distinguished winners of the Fall Academic Achievement Awards are as follows:
Monica Aguiluz – Academic Excellence in Spanish Major
Jenna Benjamin – Academic Excellence in African American Studies
Gabriella Burdick – Academic Excellence in Spanish-Secondary Education
Sarah Cook – Academic Excellence in Arabic Minor
Sarah Cook – Political Science Award for Academic Achievement
Julia Corbett – Tiffany Award for Journalism
Christine DeVito – English Award for Best Essay in Research and Theory
Gabrielle Florek – English Award for Best Essay in Research and Theory
Alexis Ganz – Professional Writing Award
Amy Jennings – Academic Excellence in French
Mary Johnston – Academic Excellence in Crimonology
Elizabeth Kamel – Alice Paul Award for Activism (Women's and Gender Studies)
Sophie Kay – Outstanding Research Scholar Award in Psychology
Paul Mercandetti – Academic Excellence in Self-Designed Russian Studies Major
Joseph Pezzulo – Academic Excellence in Chinese Minor
Amy Reynolds – Robert Cole Prize (English)
Erik Snyder – Academic Excellence in History
Kyle Watters – Academic Excellence in Italian Minor
Yale Weiss – The Laureate Prize (Philosophy)