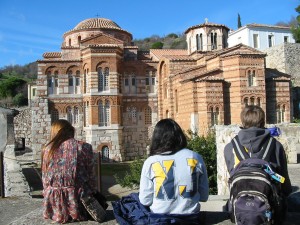 This winter, Dr. Glenn Steinberg (English) and Dr. Lee Ann Riccardi (Art and Art History) led students through a time-tested Classics course in the lands where the course's material originated: Greece and Turkey.
15 students took the art-and-literature infused "Odyssey in Greece and Turkey" class in January on its fourth undertaking at TCNJ.
Here Dr. Steinberg sits down to discuss why classics are indeed still important today. After all, the study of history is vital to a meaningful future.
Question: What, in your mind, is the importance of classical studies for students today?
Dr. Steinberg: One might think that Classical Studies, the study of ancient Greek and Roman culture, has little relevance today … But the study of ancient cultures gives us important perspective. The ancient Greeks and Romans struggled with issues of political organization (democracy vs. oligarchy), with questions of war and military spending (with respect to the Peloponnesian War), with the psychology and politics of identity (in terms of what it meant to be a Greek on the margins of the Roman Empire), and with the propaganda of art and public buildings (including the Roman appropriation of political space in the agora of Athens).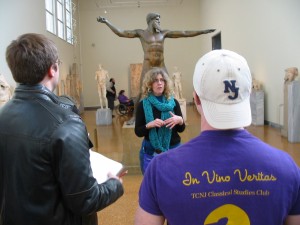 Dr. Steinberg: Today, we struggle with these very same topics – when we talk about growing income inequality in our country and its political ramifications, when we debate the Afghan and Iraqi wars, … and when we debate what kinds of buildings ought to be built at Ground Zero after 9/11.  Our problems and questions are not as new or unique as we might think, and the ancient Greeks and Romans can give us insight that might help us resolve current issues.
Dr. Steinberg, English professor, has made a far-reaching and insightful case. He even adds that studying classics can be enjoyable.
Dr. Steinberg: In addition, the study of classical Greece and Rome is fun and challenging. In many cases, so little information has survived about the ancient world that we are left with tantalizing glimpses into a vibrant society that we don't fully know or understand.  The gaps left by lost and missing information allow us to use our imagination to reconstruct what might have been.
So what should students do if they missed this year's Classics faculty-led tour?
Dr. Steinberg: The course in Greece and Turkey that we just did will likely be offered again…Students of Classical Studies get to have the fun of discovery and practice important skills (such as paying attention to detail and out-of-the-box thinking), all at the same time.