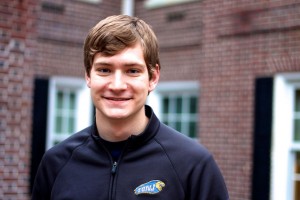 Matt Knoth, senior International Studies major, has been granted a US Teaching Assistantship (USTA) from the Austrian-American Educational Commission (a.k.a. Austrian Fulbright Commission). Having spent a whole year abroad immersed in foreign languages, Matt then began pursuing every international opportunity possible.
After all, who could blame him? Matt has already spent one whole semester studying across South America (now fluent in Spanish) and a consecutive one traversing Europe (now fluent in German), so bringing his American cultural knapsack abroad seemed only logical. This time, however, it will be to teach.
Here Matt tells us more about why he chose Austria and about how teaching English abroad fits into his view of the future:
Question: When did you first find out about the program? What about it appealed to you?
I found out about the program back in September (2013) while perusing the different English Teaching Assistantships through the Fulbright Program…I knew how competitive and selective the English Teaching positions in Europe are, so I applied to as many as I could find: Germany, Spain, Switzerland, and of course, Austria. I put my heart and soul into each application, with help from professors, my parents, and friends…I was elated and overjoyed to have a plan following graduation, and that I would once again be speaking, thinking, and living in German. 
The study of languages and cultures have been my central focus as an International Studies (concentration in European Studies) and Spanish double major. Austria, in particular, appealed to me because I felt it would offer a distinctive opportunity from my previous experiences in Germany, while still enabling me to speak and refine my German. The more I researched about Austria, the more I wanted to live there. The Austrian Declaration of Neutrality and years outside of the European Union, as well as the decade following the end of World War II, have transitioned Austria and its distinctive heritage into a unique place in Europe today. 
Question: Where do you see this opportunity leading to in the future?
I see this opportunity leading to a career in International Education.
I have been inspired by my roles as Community Advisor in the International House (on campus) and Oral Proficiency Hour Leader for Spanish and German (in the Department of World Languages and Cultures) to make it my life's work of connecting people and filling cultural gaps through language and cultural exchange. More importantly, I will use this experience to discern if I'd rather pursue a role in the classroom as a foreign language professor or a more behind-the-scenes role as a study abroad director. 
Finally, Matt regales us with his whimsical study abroad adventures: from Costa Rica to Belize to Argentina–and now onto Linz, Austria. The basis for his attitude toward teaching English to Europeans?
"I hope to make language learning fun and interactive while encouraging my students to continue learning English so that acquiring an additional language can be their key to open myriad doors to opportunities in their lives," he explained.
Question: Can you tell us all at HSS a bit about your previous study abroad experiences? Where did you study and for how long? How did those experiences affect your decision to look for a job abroad?
I certainly do love to study abroad.
Foreign Experience #1: It is important that I mention the gap year that I took as a Congress-Bundestag Youth Exchange Scholar (an exchange student in a German high school) prior to coming to TCNJ. This year in Krefeld, Germany, was the catalyst for my wanderlust and has continually motivated me to explore other parts of the world while grasping the subtleties of their languages and cultures.
Foreign Experience #2: In the summer following my freshman year, I went on a Semester at Sea voyage through the University of Virginia and the Institute for Shipboard Education where I studied the practices of humanitarian engineering and United Nation's Millennium Developmental Goals for 2015. My visits to various schools and an orphanage in Costa Rica, Honduras, Guatemala, and Belize helped me to see that I want to make an impact in the world through education.
Foreign Experience #3: With my passions split between Europe and Latin America, I planned my junior year abroad to incorporate my two regions of interest. For this year I received a Roebling Scholarship. I spent the fall 2012 semester in Buenos Aires, Argentina, at the Universidad de San Andrés, and subsequently, the summer 2013 semester in Leipzig, Germany, at Universität Leipzig. My courses in Spanish and German helped me perfect my language skills while I also learned about and discussed Argentine and German culture, history, and modern-day politics.This year abroad truly has made me a global citizen.  
I can confidently say that (at least for me) immersion is the best way to learn a language. Given how much my experiences abroad have shaped my own confidence, global interest, and opportunities at home and abroad, I would like to do my part by paying it forward at the two secondary schools where I'll be working in Linz, Austria. As a native English speaker, I would like to bring a piece of me and my American culture to serve as the "key" to language for students that may not get the chance to live in a foreign country. English is the global language, or lingua franca, of today.