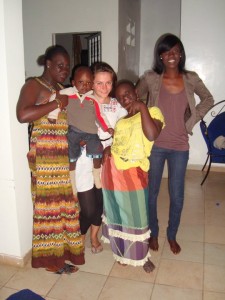 Wiktoria Leja, Class of 2012 alumna, has been assigned by the Peace Corps to an English-teaching position in Indonesia. After having an out-of-the-box study abroad experience in Senegal, it was clear to this HSS student that she was yearning for more. Find out about how she applied for the Peace Corps, what it takes to be a global student, and how HSS helped her along the way:
Jack Meyers (Interviewer): What sparked your interest in the Peace Corps? Why did you choose Indonesia?
Wiktoria Leja: I started to seriously consider joining the Peace Corps after studying abroad in Senegal during my junior year at TCNJ. As part of my study abroad program, I spent a week with a Peace Corps volunteer and experienced first-hand the wonderful projects that volunteers were working on in developing nations. I was able to ask my host volunteer about her experience and gained a more personal perspective of the Peace Corps. 
JM: Was there anything about your Humanities background that helped you along?
WL: My humanities background made me a strong candidate for the Peace Corps. Through my coursework as an International Studies major, I gained a deep understanding of international politics and sustainable development, knowledge that I will certainly put to use as a volunteer.
I was able to reference many of my courses during the application process and interview to show my understanding of international development and the world in general. In particular, my minor in African studies allowed me to gain invaluable insight into the history and politics of developing nations. 
Furthermore, I studied French throughout my time at TCNJ and even had an independent study in Wolof, a language of Senegal, with Dr. Sow. While I won't be speaking these languages in Indonesia, my language skills made me a strong candidate for the Peace Corps as they demonstrated my ability to learn a new language. 
JM: Did you feel you had any specific advantages amongst your competition having studied abroad in West Africa?
WL: My study abroad experience in Senegal certainly made me a more competitive applicant…I also interned with a local refugee organization in Senegal, and used that professional experience to highlight my work in international development during the application process. Furthermore, studying abroad in Senegal and living with a host family taught me how to respectfully integrate myself into a new community. I learned a lot about cultural sensitively and how to work with people from around the world, all skills that will hopefully make me a successful volunteer. 
JM: What advice would you give to students currently studying Humanities at TCNJ that are similarly motivated and globally-minded?
WL: I would tell these students to go outside of their comfort zone. Travel or study in a country that may not be on your radar. Most importantly, be open to new opportunities and take advantage of exciting challenges.