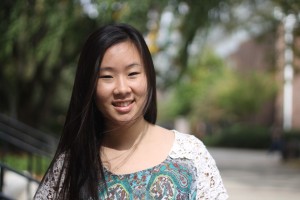 Shirley Wang, sophomore psychology major, will be presenting at the National Eating Disorders Association (NEDA) Conference on October 18 in San Antonio, Texas. Shirley's speech will be about her involvement in encouraging young adults on college campuses to have positive body image.
Shirley has been interning for the organization, which is the U.S.'s premier non-profit organization advocating for people afflicted by eating disorders, for over two years now.  Originally trained for NEDA as a Referral Helpline intern, she now helps NEDA's Director of Prgorams develop and implement a university initiative called
Proud2BMe on Campus
. Shirley explained that the initiative "works to build a nation of youth leaders and change makers on body image, weight, and eating disorder issues."
HSS: What else can Proud2BMe do for students who are looking for help?
"Proud2BMe on Campus offers informational toolkits for educators, administrators, athletic coaches, and parents; webinar training for resident and peer advisors; and a free and anonymous online eating disorders screening with follow-up referrals and support from the NEDA helpline," Shirley explains.
HSS: What other projects have you been involved in since starting with NEDA?
Shirley also attended the International Conference for Eating Disorders 2014 (ICED) by the Academy for Eating Disorders.
"At ICED, I was able to attend sessions and discussions by some of the leading researchers and clinicians in the eating disorders field, and it was an awesome experience for me," Shirley says.
"I am so excited to have the opportunity to attend another conference, this time as a speaker!"
HSS: What do you hope to do after your prestigious presentation?
"I am very excited to continue learning about, researching, and perhaps one day treating eating disorders and body image issues as a clinical psychologist," Shirley says.
Interview by Jack Meyers