How My Career in Research Began at TCNJ
By Caitlin Duffy, Class of 2012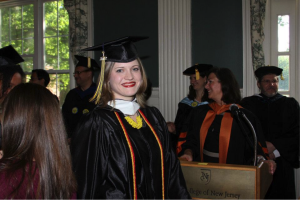 The Spanish word cosmovisión has a magical ring to it, especially in the context of ancient Mesoamerican cultures. While translated as "worldview," the root word "cosmo-" conjures up a more expansive vision of our universe that speaks to indigenous cultures' emphasis on interconnectedness, and which epitomizes my time and education at TCNJ. I first learned the term in Bliss Hall, where my professors from the World Languages and Cultures (WCL) Department challenged me to examine oppression, power, and privilege in Latin America and the United States. I wrote papers on transnational migration, the exploitation and discrimination of immigrants, monoculture, free trade, and neoliberal globalization – themes which molded and informed my passion for social justice advocacy.
During my undergraduate studies, I worked closely with Dr. Teresa Anta San Pedro on an independent study project and my capstone paper, which constituted my first foray into literature reviews, qualitative research, and ethical analysis. In addition, thanks to financial support from the School of Humanities and Social Sciences, I presented one of my papers at the Spanish Professionals in America annual international conference in Ithaca, New York during my junior year. You can read some of my reflections from the trip in the WLC newsletter from the summer of 2011! Dr. San Pedro was a tough critic, but her mentorship and encouragement were vital to the development of my research skills and my preparation for graduate school. Outside of class, we met regularly in her office, where she pushed me to draw connections, cite reputable scholarly sources, and pay close attention to nuance. Before finalizing a research paper, we would spend hours dissecting and improving just a handful of pages.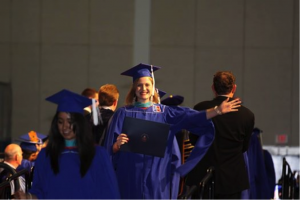 After TCNJ granted me a BA in Spanish in 2012, I moved to our nation's capital to study for an MA in Ethics, Peace, and Global Affairs at American University (AU). The education I received at TCNJ provided a solid foundation for my continued studies in human rights and social responsibility. While at AU, I took classes in qualitative research and the comparative method; served as a graduate research assistant for a professor of corporate citizenship in the Kogod School of Business; studied abroad in Costa Rica at the United Nations mandated University for Peace, where I assisted with a critical research project at the Human Rights Centre; worked as a graduate research intern for the National Committee for Responsive Philanthropy (NCRP), a progressive watchdog organization; and conducted research in Peru for the World Resources Institute to co-author a report on corporative social and environmental responsibility in the mining sector.
As I look back on my college career, I am proud to be a TCNJ alumna. My appreciation for the school runs deep: not only did two of my cousins graduate from TCNJ, but my late grandmother, Jane Bellis Duffy, also graduated from TCNJ – then known as Trenton State College – in 1949. It was at TCNJ that my worldviews were expanded, and became my cosmovisión. My hope is that TCNJ will further empower students to undertake research projects, such as the opportunities which shaped my success. By providing faculty additional resources to serve as research advisors, and by offering more grants so that students may present their work at local and national conferences, the university can continue to strengthen its outstanding programs and national acclaim. Thank you to the inspiring and supportive faculty that made my time at TCNJ so fruitful. In addition to Teresa Anta San Pedro, I extend heartfelt thanks to Ann Warner-Ault, Regina Morin, Isabel Kentengian, Colette Gosselin, Joseph Goebel, and Tulia Jimenez.
Equipped with my degrees from TCNJ and AU, I recently transitioned from intern to project assistant at NCRP, where my research contributes to expert assessments on the impact of large foundations. Check out www.philamplify.org to learn more about the initiative! I would love to hear from my fellow TCNJ students and alumni, and help spur a dialogue on TCNJ's campus about the value of student research opportunities. How has undergraduate research shaped your academic and professional career path? Connect with me by following me on Twitter at @DuffyInDC, or by e-mailing me at cduffy@ncrp.org!
TCNJ graduation, May 2012
American University graduation, May 2014
Research in Peru, March 2014