We congratulate Laurence Hochman, sophomore double major in International Studies and Economics with double minors in Spanish and Political Science, on the following marvelous opportunity he was granted during his current semester abroad in Alcala de Henares, Spain.

Thoughts on International Seminar at the E.U. by Laurence Hochman

I travelled to Brussels, Belgium to attend a seminar at the European Union on activism, lobbying, and key political/social issues in the EU. I was sponsored to go entirely for free to the seminar, which was co-hosted by EUJS (European Union of Jewish Students,) DoJAS (Delegation of Jewish American Students,) and B'nai B'rith International .
The diversity of the people in my group intrigued and inspired me. The other students were from England, France, Germany, Israel, Slovakia, Ukraine, Australia, and the U.S., too. The immense wealth of backgrounds and experiences yielded a rich atmosphere of debate and intellectualism. This became especially important as we delved into pressing issues like human rights, terrorism, access to education, and Anti-Semitism. After experiencing such an impressive blend of international culture in Brussels I'm inspired to keep seeking out more diversity both here in Spain and back at TCNJ.
One of the best experiences for me was meeting Verónica Lope Fontagné, a Member of the European Parliament (MEP) from Spain. She popped into one of our simulations, spoke to us briefly, and took a few questions. In Spanish, I asked her a question about youth unemployment, which she thoughtfully and fully responded to. I even continued the conversation with her during the free moments she had after the Q&A. This made me realize how accessible and real these influential foreign officials can be, given some personal drive and a few connections. In what felt like a matter of minutes I went from TCNJ, to Spain, to Brussels, to speaking in a foreign language with a high-level European government official about an issue I'm passionate about.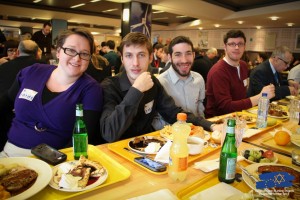 When I return to the U.S. in May, I'm going to bring these perspectives and experiences back to the TCNJ community. While participating in my International Studies and Economics courses, serving as a Bonner Scholar, living in I-House, or engaging in student organizations, I'm going to draw on this seminar and my study abroad as a whole to better engage at TCNJ.