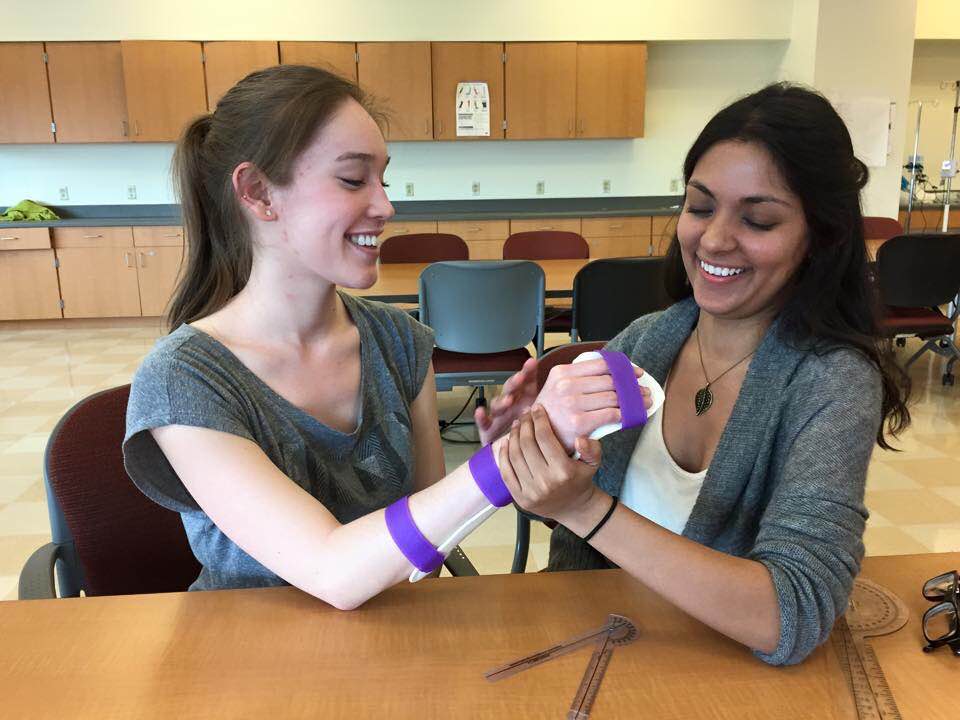 Monica Dasgupta, pictured above, graduated from TCNJ in May 2014 with a degree in Psychology and a minor in Public Health – but perhaps her most exceptional TCNJ accolade was not her diploma.
In the Spring of her senior year, she took Dr. Michele Tarter's (English) Community-Engaged Learning English course that paired TCNJ students with inmates at the Edna Mahn Correctional Facility, a maximum security woman's prison in Clinton, NJ. Now, Monica is studying Occupational Therapy at Thomas Jefferson University and hopes to become an advocate for ex-offenders, an ambition which she attributes to having this community-engaged learning experience at TCNJ.
What work did you do with Dr. Tarter at the Edna Man Correctional Facility?

Monica: In Spring 2014, Dr. Tarter taught a joint English class with 10 TCNJ students and 18 inmates inside the prison. As a class, we read several autobiographical works by women from various time periods dealing with a wide array of obstacles from slavery, to domestic violence, to kidnapping.
We learned how these women reclaimed "power through the pen" by sharing their stories for the public to read during time periods when women expressing their voices was unheard of. We even received the chance to write our own autobiographies as a part of the class. 
Before going into the prison, we all had ideas about what the experience was going to be like. At the end of the day, however, we were just all classmates learning the same material together, enriching each other's learning by bringing in experiences from our lives. We all saw the humanity in each other. 
How did this experience bring you to your current work?
Monica: In graduate school, I've been assisting a faculty member with a project exploring the stigmas associated with reintegration into society after being in prison, and how occupational therapists can help. I've been transcribing interviews from individuals with a past criminal record who are employed at a work rehabalitiation site. 
This work, in addition to my experiences in Dr. Tarter's class, have motivated me to work with and advocate for the prison or ex-offender population somewhere along the line in my future practice as an OT.
What does your current coursework involve?

Monica: Occupational therapy is a client-centered health profession that helps individuals across the lifespan be as independent as possible in the activities that they both want and need to do. The goal is to help people live full, meaningful lives despite illness, injury, and/or differing abilities.
OT's look at a person's physical, mental, social, and emotional health, as well as how they function in their environment. We believe that occupation–the different activities that people do everyday to occupy their time– is linked to health and well-being.
We try to focus on what clients can do rather than what they can't do, and help come up with creative ways to help them achieve their goals, whether it is being able to get dressed independently after an injury, or learning how to participate in their hobbies again in a different way.
How did your mentors and coursework at TCNJ influence you? Illustrate one or two moments or people that you feel have greatly contributed to your continuing success.
Monica: Studying psychology gave me an excellent foundation for OT school. Several courses I took helped me focus on the psychosocial aspects of illness, and helped me learn to view health as much more than physical well-being.
I also helped work on a project in PSY 492 in a Senior Collaborative Research lab with Dr. Barnack-Tavlaris that turned out to be much more relevant to OT than I realized at the time, which I think definitely helped me gain admission into several programs.  We were looking at barriers and strengths to physical activity in a Samoan population living in California. 
Dr. Tarter's joint class helped us all eliminate biases and judgements about what it would be like to work with the prison population. By hearing the stories and perspectives of the women in Edna Mahn, we all cultivated a deeper level of compassion and empathy for each other. I really believe empathy is one of the most transformative human emotions out there.

In OT school, we are taught to always listen to our client's stories. We all learned the importance of listening to people's stories no matter what walk of life they are from, with our biases and pre-concieved judgements pushed aside. I've taken this lesson with me to OT school, and I hope to carry it with me in my future practice. 
---
—Story and Interview by Jack Meyers
—Photo Courtesy of Monica Dasgupta