---
Professor Mekala Audain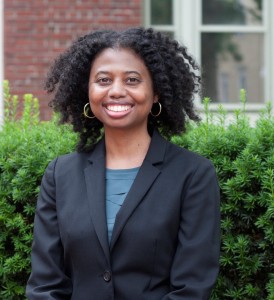 Joining the College's History department with a variety of new course ideas, Professor Mekala Audain hopes she can challenge students to rethink their understanding of significant periods in U.S. history.
Audain received her Ph.D. in History from Rutgers University-New Brunswick. With the department's rigorous training in African American history and exceptional faculty members, she knew she had made the right choice.
"My advisor supported my project right away, and other professors in the department gave me excellent advice throughout my graduate school career," she said.
Audain's research traces the southern Underground Railroad to Spanish Texas and northeastern Mexico from 1804 through 1867.
"I look at the ways in which the expanding American frontier shaped the runaway experience," she said. "This project is exciting because it is the first full-length study of fugitive slaves in Mexico in nearly forty years and it considers the Spanish-speaking world as a refuge from U.S. slavery. I am looking forward to sharing my work with others and changing the way people think about fugitive slave escape."
At the moment, Audain is working on revising her dissertation into a book manuscript about fugitive slaves in Mexico. She continues her studies by working on an article about fugitive slaves in northwestern Louisiana.
In the fall, Audain will be teaching two sections of "African American History to 1865" and "The Old South." Next semester she will teach two sections of "African American History since 1865" and "Slave Rebellion in the Nineteenth-Century United States."
In the future, Audain would like to develop a course entitled, "African Americans in the West, 1821-1921."
"The course would begin with slavery in Texas in 1821 and end with the Tulsa race riots in 1921," Audain said. "I believe that it is important to examine free and enslaved African Americans' social, political and economic contributions to the American West."
She would also like to offer a course featuring the experiences of free black Americans from the colonial era to emancipation.
"My goal for this course would be to challenge how we understand black freedom prior to 1865," she said.
With the College's small class sizes, Audain is looking forward to mentoring and getting to better know her students.
In her free time, Audain enjoys traveling within the United States and aboard as well as reading fiction novels.
---
Professor Jared Beatrice
As a biological anthropologist, Professor Jared Beatrice has the ability to combine his studies with his love of travel.
The newest member of the College's Sociology and Anthropology department is no stranger to traveling abroad. As a graduate student at Michigan State University, Beatrice spent his summers in Albania and Greece, working alongside an advisor to study the biology and behavior of the people who lived in the ancient Mediterranean.
This hands-on training and one-on-one attention helped Beatrice immerse himself into the field, where he specializes in the study of the human skeleton.
"There are many different ways to apply knowledge of human osteology," Beatrice explained. "My research involves using information from the skeleton to understand the impact of life stresses on human biology and behavior. This involves analyzing human remains for evidence of health conditions such as infections, nutritional deficiencies, activity-related stress and trauma."
Beatrice also examines mortuary practices using archaeological evidence from human burials.
"This type of research helps us understand experiences of life and death in past societies," he said.
Beatrice explored these ideas in his dissertation, which took a comparative look at the health status and burial practices of Byzantine communities who lived at the site of Nemea, Greece in two different time periods.
Currently, Beatrice's research has two main foci, one of which is a continuation of his dissertation fieldwork.
"There are a number of questions that remain unanswered about how Nemea fits into the larger, regional picture during this period of Byzantine Greek history," Beatrice said. "I continue to collaborate with a classical archaeologist at Michigan State on a project that will expand upon the health data to include investigations of population movement, identity and additional aspects of mortuary behavior."
His second project is an interdisciplinary collaboration with researchers at the New York City Office of the Chief Medical Examiner and the Colibrí Center for Human Rights in Tucson, Arizona.
"We are looking at the health status of undocumented migrants who die while attempting to cross the U.S./Mexico border into southern Arizona," Beatrice explained. "While the subject can make working on this project difficult, I'm very excited about this new direction because together we're able to raise awareness about some of the hardships faced by individuals who ultimately choose to migrate to the United States — it's a perspective that too often is missing in current debates about immigration and U.S. policy toward migrants."
This semester, Beatrice will be teaching two sections of Introduction to Physical Anthropology, which will explore the evolutionary theory, anthropological genetics and human fossil record. He will also be teaching a section of Food, Biology, and Culture: The Anthropology of Nutrition, which will focus on the relationship between humans and food and how it has influenced our biology and behavior for millions of years.
In the spring, Beatrice will teach Human Evolution and plans to develop a combined human osteology and forensic anthropology course in the future.
"This would be an exciting addition to the anthropology curriculum that would offer lots of opportunities for hands-on learning about the human skeleton and the application of skeletal analysis to medico-legal casework," Beatrice said. "I also envision developing courses focusing on human adaptation and variation, growth and development, bioarchaeology, and paleopathology."
As an undergraduate student at Ohio University, a liberal arts education was at the core of his institution and left a lasting impression.
"I'm excited about the small class sizes at TCNJ because they lend themselves to discussion, interaction and active learning, all of which figure prominently in my approach to undergraduate teaching," Beatrice said. "But this is more than just a personal preference — TCNJ's learning environments foster the type of rich experiences that I feel are critically important to student success."
Beatrice spent much of this summer in Tuscany conducting fieldwork with a team of anthropologists from his alma mater.
Before embarking on his trip Beatrice explained, "I'll be working on a group of burials associated with an early Christian basilica near the Late Antique city of Roselle (where) we'll be looking for evidence of disease in the human remains and also sampling them to investigate familial burial patterns using ancient DNA analysis."
Over the years, Beatrice has worked with wonderful teachers and mentors that gave him the opportunity to immerse himself in his interests and he hopes he can model that same experience for his students at the College.
---
Professor Zakiya Adair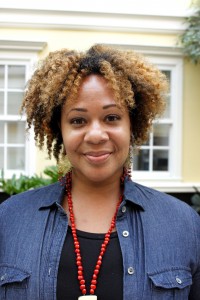 Early on, Professor Zakiya Adair knew she wanted to earn her Ph.D. in an interdisciplinary field. When she entered graduate school for Women's and Gender Studies at The University of Washington, there were only 11 schools offering WGS that were granting a Ph.D. at that time. Due to this great opportunity, Adair was able to forge her own path in a newly developing field.
As one of the College's new faculty members in the Women's and Gender Studies department, Adair enthusiastic about the College's mission and its focus on scholar teachers.
"I am happy to be a part of the vibrant community of fellow scholar teachers at TCNJ," Adair said. "I am also really excited about the students — TCNJ has some of the best and brightest students and I love the dynamic ways that TCNJ students are committed to social and community development."
Adair's body of research focuses on women's cultural history and women's studies, as well as late 19th and early 20th century African American cultural history including black internationalism and black expressive and performance arts. She specifically studies black American women performers in the early trans-Atlantic black expressive culture, such as vaudeville, cabaret and music hall style performances.
Her current and first book project entitled, "Black Women, Performance and Early Trans-Atlantic Expressive Culture" examines the constructions of race, gender and nation during this time period.
"Two central arguments of my book revolve around black American folk culture and black racial uplift," Adair said. "I re-examine the popular American genre of minstrelsy to demonstrate the ways it was re-configured through the trans-Atlantic performances of black American female performers into what I term 'cosmopolitan minstrelsy'."
Adair highlights several black American women performers such as Josephine Baker, Florence Mills and Adelaide Hall, all of whom used their international success as a platform to showcase racist policies in America and fight to attain equal rights for all black Americans.
She also noted that several trans-Atlantic shows featured black American women performers as either African or islander and demonstrates the significance of the women's American citizenship to their trans-Atlantic success.
"I am excited about my project because it allows me to demonstrate the significant contributions black American women made to black internationalism, popular culture and performance in the early 20th century," Adair explained. "Additionally, my projects help to fill in gaps (in) scholarship that has tended to leave out the important experiences of black women who were performers abroad during the early part of the 20th century."
This academic year, Adair will be teaching two sections of Gendering the Harlem Renaissance and one section of Women, Culture and Society. In the future, she would like to develop a course that re-imagines the post-Emancipation and Reconstruction eras to include women who were entertainers and domestic workers, as well as the experiences of women who migrated to urban cities in the north, east and west.
Adair also has interest in developing a class to explore the racial and gender aspects of science fiction and fantasy in film and television.
"I am specifically interested in exploring the ways women and people of color and the LGBTQ (community) are presented in these genres," Adair said. "The course would tease out both the transgressive possibilities for race, gender and sexuality and also the racism and sexism in this genre."
The Northern California native loves going to the beach, dancing and cooking. With family in Germany, Adair spends a month each summer in southwest Germany. She is often able to incorporate her love of travel and exploring new languages with her research. Her studies often bring her to France, where much of her research archive is located.
Before she even saw the potential in herself, Adair said a college mentor saw her potential to be an effective college professor and recommended her for The McNair Scholars scholarship, which is designed to increase the number of minorities that go into the professoriate.
"After I was accepted, I got to learn more about the field and I loved it — it just seemed to fit my interests and skill set and I love being able to teach, mentor and conduct research that will have a positive change on society," Adair said.
---
Professor Aimee Stahl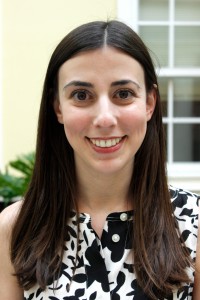 After receiving her Ph.D. in Psychological and Brain Sciences at Johns Hopkins University earlier this year, Professor Aimee Stahl is ready to bring her knowledge and research to the College community as a new faculty member in the psychology department.
While the New Jersey native is excited to be back in her home state, she benefited greatly from her time at Johns Hopkins.
"(It) was a great place to conduct cutting edge research while also having the opportunity to teach and mentor undergraduates in the classroom and in a laboratory setting," she said.
Stahl's research focuses on cognitive development – primarily learning, memory and social cognition – in infants and young children.
"My dissertation focused on whether infants and children learn more effectively from surprising (events) than expected events," she explained. "For example, I showed babies surprising events, like a ball that appears to pass through a wall, or expected events, (like) the ball stopped by the wall."
She found that the babies learned more efficiently and preferred to explore the surprising object as opposed to the object that did not behave surprisingly.
"My findings also showed that the way babies explored the surprising object suggested that they were seeking an explanation for how it behaved," Stahl said. "Infants who witnessed a ball pass through the wall, for example, tested that ball's solidity by banging it on a solid surface (however) babies who witnessed a ball float in mid-air tested the ball's gravity by dropping it onto the floor."
She continues her line of research by studying how surprising events influence learning and exploration in infants and older children.
"This work is exciting because it not only shows that infants have rich, sophisticated knowledge about the world, but also that they can use this knowledge to guide what they should learn about in the future," Stahl said. "When our existing expectations are violated, it signals a special opportunity to learn."
This fall, you can find Stahl in the Social Sciences building as she will be teaching Methods & Tools as well as Origins of Social Cognition, which is an upper level developmental seminar. In the spring she is scheduled to teach Development Across the Lifespan and one day hopes to develop an advanced seminar on cognitive development with a focus on the conceptual building blocks of the human mind.
Stahl also conducts research on working memory in infancy and plans to start new projects in this line of research at the College. She is eager to work with students on this research during lab sessions in the spring.
The College's blend of liberal arts education and public institution along with its strong sense of community were just some of the influences behind her decision to teach here.
"The students seem bright, motivated, and eager to participate in research," she said. "Everyone is enthusiastic and genuinely cares about the student experience, and I hope to contribute to that communal feel."
Outside of academia, Professor Stahl loves to travel and try new restaurants and cuisines. This summer she traveled to Portugal for her honeymoon.
---
Professor Craig Hollander
With the addition of Professor Craig Hollander to the College's History department comes a world of opportunity, as he plans to educate through new courses designed to interest and engage students.
Hollander received his Ph.D. in American History and Atlantic History from Johns Hopkins University with his research primarily focused on the politics of slavery in America.
"In my dissertation, I sought to explain why Americans of the early republic seemed so concerned with eradicating the African slave trade, even though they permitted slavery to grow within the United States," Hollander said.
He is currently transforming his dissertation into a book, which will be published by Penn Press.
This fall, Hollander will be teaching various courses pertaining to 19th-century American history and politics including American Slavery and The Early American Republic.
The opportunity to teach at an institution with small class sizes initially drew Hollander to the College, with members of the community sealing the deal.
"The history faculty could not have been more warm and welcoming," Hollander said. "I have heard nothing but great things about TCNJ from my friends and colleagues in New Jersey."
Hollander strives to create classes that he would have wanted to take himself as an undergraduate, as well as an environment conducive to study and discussion.
"I will have fresh coffee available during my office hours, (after all) history goes great with caffeine," Hollander said.
In his free time, the Baltimore native can be found chasing around his 18-month-old daughter, spending time with his wife, following sports and much like his students, binge watching HBO.
---
Professor Leigh-Anne Francis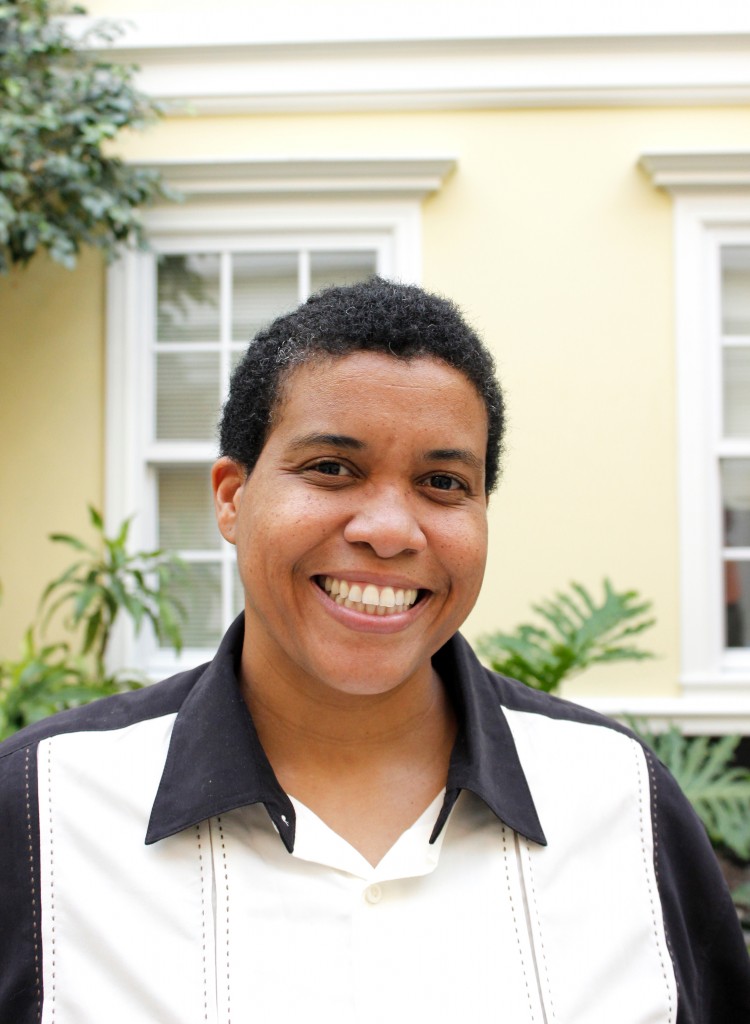 The College is pleased to welcome Dr. Leigh-Anne Francis to the departments of African American Studies and Women's and Gender Studies.
Francis received a doctorate in United States and African American History at Rutgers University.
Francis was inspired by "(the) brilliant professors that emphasize the intersectionality of race, gender and class in the researching and writing of history," and carries those same ideas into teaching today.
Currently, Francis' dissertation is being revised for publication as a book entitled, "Bad Girls: Race, Crime, and Punishment in New York State, 1893-1916."
"'Bad Girls' analyzes the intersections of gender, race and class by exploring crime and punishment, labor and community, through the lens of black women's experiences while offering comparisons with imprisoned native-born and European immigrant white women," Francis said. "It demonstrates that racist-sexist judicial, media, and activist discourses, discriminatory policing, and the criminalization of impoverished black females' survival strategies resulted in the over-representation of black women and girls in prison."
"Bad Girls" helps shed a light on the modern crisis of mass incarceration in African American communities. According to Francis, black women are the U.S's fastest growing prison population.
"I chose TCNJ because it is one of the best public schools in the country and I share the college's devotion to social justice education," Francis said. "My colleagues in AAS and WGS are brilliant, kind, activist scholars. It is a true privilege to join their team."
In the fall, Francis taught African American Women's History and the freshman seminar (FSP) Race, Crime and Prisons in U.S. History. This spring you can find Francis teaching the course LGBTQ People of Color in U.S. History.
Currently, Francis is designing new and enriching courses for students called Early African American Women's History: Slavery and Resistance (1600s to 1870s) and another entitled Modern African American Women's History: Old Jim Crow to New Jim Crow (1865 to present). Other courses focused on black women's criminalization and LGBTQ people that come into conflict with the law are expected to be developed soon as well.
"When I am not teaching or researching, I enjoy spending time with my wife, Jenny, and our one-year old twin sons, Rustin and Langston," Francis said. "We love to stroll the twins around our neighborhood, read books to them, spend time at the Children's Museum, carousel, and duck pond."
Photos, story and interviews by Kimberly Ilkowski