On Saturday, March 26, the English graduate program hosted its second annual student and alumni symposium, centered on the theme of change as inspired by the Cultural and Intellectual Community Program Council (CICPC) annual theme. This event continued last year's establishment of a forum for current MA students to come together with alumni of the program to share and participate with each other's works and accomplishments in an atmosphere of academic achievement and community. Each carefully planned panel showcased the individual and collaborative research and writing undertaken by the College's English graduate community.
The impressive works presented ranged from papers born in the program's seminars, the culmination of master's thesis projects and independent efforts in professional development and creative writing. Attendance included over sixty students, alumni, faculty, family and guests. The symposium celebrated a dynamic and thriving community of students and alumni within the graduate English program who are actively teaching, publishing and continuing academic pursuits beyond the college seminar experience through exciting, transformative avenues.
This year's symposium, coordinated by Dr. Lisa Ortiz-Vilarelle, Lindsay D. Rogers and Matt Fuhrmeister, featured four carefully constructed panels united by the broader theme of change, as well as original poetry readings, an interactive lightning round, a keynote address by distinguished 5-Year MA alumna Erika Shultes ('14) and the presentation of two master's thesis projects.
"The day was incredibly gratifying on an academic and intellectual level and on the level of community building,"  Professor of English Dr. Michael Robertson said. "It compared extremely favorably with many professional conferences I've attended."
Robertson continued his praise of the event, saying that he was "extremely impressed by the professionalism of the symposium and the high quality of the papers. The organization was beautifully handled. Every panel was intellectually coherent, with a nice mix of papers and the organizers very thoughtfully provided time for socialization between panels with a wonderful lunch break where we could sit together  — students, alumni, and faculty — and discuss what we had all heard."

Lindsay D. Rogers, a graduate student representative and a graduating student of the program, mirrored this thought.
"Everything really worked together well to allow for a place for informal exchange, even when no one was up at the podium or at the microphone," Rogers said. Rogers presented her own research focused on her work in her Trenton classroom to enforce change as a pedagogical tool, in addition to her MA thesis presentation.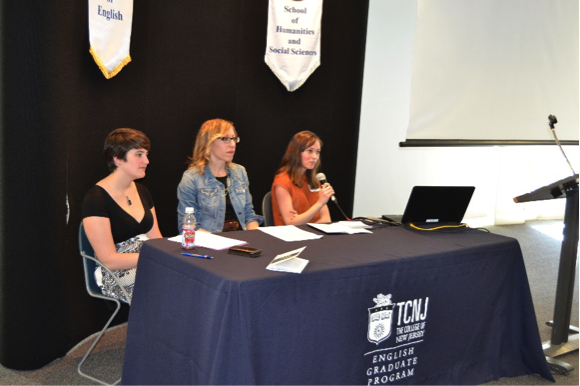 This opportunity for informal exchange throughout those present "was a great opportunity," Rogers said, "not only for people to see what we are doing as graduate students at TCNJ, but I saw some opportunity for faculty to benefit from what we are doing in the same way that we benefit from their studies. I felt some of that return — the full circle of each benefitting the other, so I really appreciated that."
Overall, ten current students and their works were heard throughout the day's presentations, with six notable alumni returning to feature their continued, new or returning scholarly and creative works throughout the day.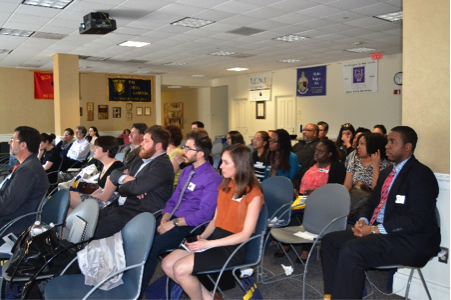 A success in its mission to engender a community of research and exchange within the College's English graduate program, this year's Change Symposium drew from the wealth of fellowship and mentorship among current students, alumni and faculty, resulting in exciting and unique dialogues on change in literary studies — dialogues which will doubtlessly continue to carry on into the future.
"I'm incredibly proud of our graduate English community and the extraordinary talent and dedication of the participants who shared their research and creative writing. Throughout the process, these panelists have also shared their support for one another as they gear up to share their work in larger venues, such as academic and professional conferences as well as for publication," Graduate Program Coordinator Dr. Lisa Ortiz-Vilarelle said. " Several of our students and alumni have published work that began in our seminars. My hope is that by offering a symposium like this one each year, we can continue to encourage students and alumni to further develop their work and share it in broader and broader ways."
The English graduate program is excited to celebrate scholarly work in future symposiums and make this event a tradition within the College and the department of English.
-Story and interviews by Graduate Assistant Matt Fuhrmeister