Former students at The College of New Jersey returned to campus in droves for this year's Alumni Weekend, which lasted from April 25 to April 28, 2018.  While the event proved a perfect opportunity for graduates to reminisce on the glory days with old friends, current students of the School of Humanities and Social Sciences utilized it as a platform to forward their academic pursuits and projects at the annual President's Donors-Scholars Reception.
"I was involved in tabling for the Psychology Department," said Christina Woods, a junior Psychology major.  Along with other students and faculty members in our department, I invited guests to participate in our mirror tracing task."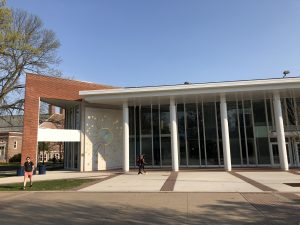 The Psychology Department's table was located in the recently renovated Brower Student Center, at which students implored guests to complete an enjoyable task that illuminated psychological concepts essential to the popular major.
The mirror tracing task is a widely-spread psychological activity which instructs participants to trace the outline of a star in a mirror, according to psychology students.  If the participant makes an error, a hooked-up device lights up to inform them of their mistake.
"Participants' performances improve each time that they try the task," Woods said, "which demonstrates our non-declarative memory's ability to learn new motor skills."
The task's repeatable nature made it a real hit with those who gave it a try.
"The guests were having a lot of fun trying to completely eliminate their number of errors," Woods said.
Sociology and Anthropology majors got in on the action as well, using their table to present their findings in the ongoing archaeological Arch Street Project.
The project started by accident, when a forgotten mid-18th century cemetery of The First Baptist Church of Philadelphia was rediscovered by a construction company building a parking garage on the site.  About 500 burials were discovered and excavated in an effort led by Rutgers-Camden and joined by students and faculty at TCNJ.
"A few students, myself included, got the opportunity to help excavate the remains from their coffins and clean and analyze the remains in a summer school led by Dr. Jared Beatrice and Dr. George Leader," said Genevieve Duran, a sophomore Sociology major.
Students realize that they and their professors are a part of something big.  They were pleased with the high-interest that their work was met with at the event.
"The excitement is definitely infectious," Duran said.  "Anyone who is told about the project can really feel the enthusiasm all of the students feel being able to conduct research and be a part of it all."
Written by Kyle Elphick