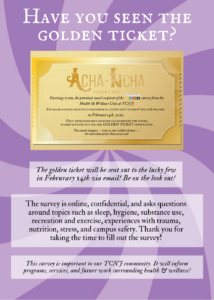 TCNJ's American College Health Association's National College Health Assessment (ACHA-NCHA) will be distributed on Monday, February 14th, 2022. This wellbeing survey is integral to Student Affairs and Health and Wellness programming throughout the year and provides us with many valuable insights. The survey is online, confidential, and asks questions around topics such as sleep, hygiene, substance use, recreation and exercise, experiences with trauma, nutrition, stress, and campus safety.
Some of the prizes will include a free parking spot, Old Navy/Gap/Athleta/Banana Republic gift cards, and other gift cards from Campus Town businesses.
If you have any questions, please don't hesitate to reach out to
oavi@tcnj.edu
. We appreciate all your help! Attached is a flyer for additional information and posting.
Thank you,
The TCNJ Health and Wellness Team