When Bryan Furman entered The College of New Jersey as a Criminology and Psychology double major in the fall of 2008, he was simply appeasing the wishes of his grandfather.  Higher education was not part of Furman's plans for himself.
"I never actually wanted to come to college," says Furman.  "When I was in high school, I performed very poorly, and missed 53 days of my senior year."
Now, Furman is in his fifth year and preparing for graduation after switching his Criminology major to International Studies and picking up minors in Central Eurasian Studies and Russian Studies.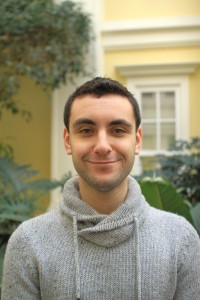 He has served as president of the TCNJ Martial Arts Club (since dissolved) and first secretary, now president of the Eurasia-Middle East Society. Furman also currently serves as the International Studies Peer Mentor and a Humanities and Social Sciences Tutor for Russian, History, and Political Science.
He spent first a Maymester and then a semester studying abroad, and has spent two summers studying Russian and Persian, respectively,  in the intensive language immersion programs at two other American institutions: Middlebury College in Vermont and the University of Wisconsin—Madison.
Furman also now belongs to five honor societies for academic success: Psi Chi, the Psychology honor society; Sigma Iota Rho, the International Studies honor society; Phi Beta Kappa; Phi Kappa Phi; and Golden Key.
So how, exactly, did a student who was not even interested in attending college in the first place become so involved and successful, in both academics and extracurricular activities, that he became the School of Humanities and Social Sciences' very first Student of the Month?
It was by chance that Furman happened to be walking through the Student Center when the first annual Persian New Year celebration was taking place.
"I was coming from class and Dr. Gross snagged me and said, 'What do you want to do?'" says Furman.  He had never met History Professor Dr. Jo-Ann Gross before this encounter, and, a bit intimidated, he told her that he was maybe interested in working for the FBI.
Dr. Gross told him that the best way to get a position in the FBI was to study a critical region—a plug for her to encourage Furman to study Persian and attend her faculty-led Maymester course abroad, "Travels on the Silk Road of Central Asia" in Tajikistan and Uzbekistan.
Furman was already studying Russian for his language requirement, but decided to go ahead and enroll in Dr. Gross' course "Politics, Culture and Identity in Central Asia," the co-requisite to the Maymester course.
"After taking the spring 2011 seminar, the prereq. to the Maymester, only then did I realize how Central Asian studies and Russian came together," says Furman. "I was able to understand what I was seeing through a different set of lenses. That's when I decided to take language studies more seriously."
Furman went on to become the recipient of a Boren scholarship from the National Security Education Program to study abroad in Moscow, Russia, for a semester as part of the American Councils' Russian Language and Area Studies Program.  Boren scholarships are meant to promote the study of languages deemed critical to U.S. National Security, like Russian.
The scholarship came with the stipulation of committing at least one year to working in the United States national security sector—receiving preferential hiring status—within five years of graduation.
As part of the Boren scholarship, Furman spent time in Moscow conducting social-psychological research on Russian-Muslim relations, based on a plan he had mapped out with TCNJ Assistant Professor of Psychology Dr. Jarret Crawford before going abroad.
"The best aspect of TCNJ is the ability to work really closely with your professors," says Furman, citing Dr. Gross and Dr. Crawford, as well as his Russian professor, HSS Dean Benjamin Rifkin, and Modern European History professor Dr. Cynthia Paces.
"They are the kind of people who, for their students, will cut their heart out," Furman says.  "They are very willing to go the extra mile, whether helping with academic pursuits, career pursuits, or personal problems; every professor has an open ear and is willing to help mentor you or help you grow."
Furman had decided to stray from a clinical psychology focus and use his Psychology major to instead concentrate on the social-psychology track, in order to better understand group behavior in central Eurasia.  This research project—in which Furman and Dr. Crawford worked together on designing the study and analyzing data, and Furman worked on data collection, data input, and translating the results into Russian—proved to be a successful manifestation of this new social-psychology focus.
Speaking about his semester in Russia, Furman says: "The classes I took at the university and the people I met there were incredible. I gained a lot of good friendships, my Russian certainly improved, and I got a different view of the world.  Looking at [Russia] from Moscow is different from D.C. or the U.S. or even TCNJ."
While abroad, Furman also completed an internship with Carnegie Moscow Center, the leading Eastern European political think tank, where he researched Post-Soviet and U.S. politics.
"I didn't necessarily want to do national security [after graduation], maybe FBI profiling," says Furman, "but being oversees and getting into languages and cultures made me realize the lack of understanding and attention in political discourse of the region that I study."
Furman's montage of experiences has sparked in him a drive to promote understanding of Central Eurasia; a region he admits he did not even know existed before attending TCNJ.
"Now, it's like I do this, not because I want a job or I want a lot of money," says Furman, "but because I really do care about these people and these regions, and it really incited in me a kind of passion."
Sharing his enthusiasm for Central Eurasia, Furman explains, "The Post-Soviet region in general is super cool, because what was once one country is now 15 different countries, with a bunch of different international, political, economic, and social conditions that are unique in some ways, and in some ways speak to their status as Post-Soviet states."
Moreover, says Furman, "You have a really long history of Mongolian, Persian, Turkish, Russian, East Asian, and South Asian cultural influences in the region, and this overarching Islamic identity connecting them."
What Furman finds most interesting is understanding not only why this region is so critical to U.S. national security, but more importantly how the U.S. should proceed in approaching the region.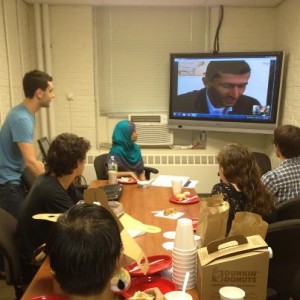 Furman is currently participating in the U.S. State Department's 2012-13 Virtual Student Foreign Service e-Internship Program, working with the U.S. Embassy in Dushanbe, Tajikistan.  He hosts a weekly Skype discussion called "Time for Tajikistan," which is an effort to facilitate dialogue between American students and Tajiks utilizing social media.
He says he hopes to "increase understanding between Americans and Tajiks and break down stereotypes and barriers to cultural understanding that exist."
Still, his future after graduation in May is uncertain. Furman is a semi-finalist for a critical languages scholarship, and is waiting to hear back about applications for a Fulbright Fellowship in Tajikistan and a Thomas R. Pickering Foreign Affairs Fellowship.  He has also applied to graduate schools where he can pursue Central Eurasian studies.
Five years down the road, he says, "If I haven't signed a contract to serve in the U.S. Foreign Service or at a government agency, I would like to get my PhD and become a political analyst with the State Department, the Department of Defense, or the Intelligence Committee."
Regardless of where life takes him, Furman is content with his studies because he feels that he has truly found his passion.
He has this advice for fellow TCNJ students: "Find what you want to do and do it."
Furman attributes his success to the fact that he loves what he studies and has found work that he really enjoys and looks forward to, not to the fact that he simply wants a job.
"I think people should lose the stereotypes and biases against changing one's major, or taking risks like studying abroad or at other universities, or trying something new," he says.
"Yes, it's my fifth year here," says Furman, "but to those people who say I wasted a year, I think I gained a lot more than the time I lost switching my major or going abroad, because now I'm really happy with what I'm doing and I've been able to accomplish a lot of goals, and set new ones."
~ ~ ~
Want to get involved with "Time for Tajikistan"? Bryan hosts the Skype chats on campus every Thursday at 10:00 p.m.  To attend, reach out to Bryan at furman6@tcnj.edu.