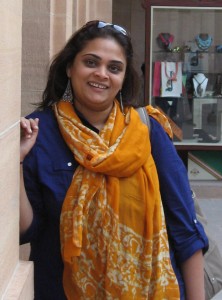 Jigna Rao, a 40-year-old sociology major and public health minor at The College of New Jersey, embodies the nontraditional student in every sense of the term.  What her 18-to-22-year-old classmates at this suburban institution might not be aware of, however, is the incredible journey that has led this Southern Indian immigrant to return to school, with particular education goals in mind, after an 18-year hiatus.
Thirteen years ago, fresh-faced newlywed Rao moved from her lifelong homeland of South India to join her husband in New Jersey, eager to embark on the greatest adventure of all: building a new life, and family of her own, with the promise of the United States, home of the American Dream.
"Like so many young couples who come to our country, my husband and I too were working very hard and trying to build a life for us here in a new country," she says.
After finding work at Drumthwacket, the Governor's residence in Princeton, New Jersey, and taking a few years to settle into her new environment, Rao was finally ready to start a family.  She spent the next couple of years trying to have a child with her husband, but grew increasingly frustrated and disappointed when she was unable to get pregnant.
In 2006, Rao sought out specialists to assist with her pregnancy issues, but instead received a diagnosis that, for her, served as the ultimate setback: Pelvic Tuberculosis.   This uncommon, non-infectious form of tuberculosis did not attack her lungs or respiratory system, as TB generally does, but instead, her reproductive system, rendering Rao infertile.
"A silent disease," wrote journalist Harneet Singh in an article for The Times of India, "Pelvic TB may be present for 10 to 20 years without producing any symptoms with the woman remaining in apparent excellent health. Infertility is often one of the symptoms and sometimes, the only reason to investigate for the presence of the condition."
And just like that, in a cruel and ironic twist of fate, Rao found herself spending the next nine months undergoing a grueling course of TB treatment, rather than growing a baby inside her like she had hoped.
"Pelvic TB ended up costing me my fertility," she says, "so all the hopes and dreams my husband and I had for having a family here in our new country came to a grinding halt."
Rao sums up the injustice she felt: "Instead of looking for baby names, we were looking for TB medications."
It is difficult enough to battle TB when the road to recovery consumes your life for nine full months, the medication presenting harsh side effects and inciting perpetual fatigue, but the consequential infertility made it especially hard for Rao, who is from a part of the world where infertility is seen as a major shortcoming in a woman and reflects heavily on one's femininity.
"It was a very traumatic experience, because I grew up in a culture where being a mother is a very big part of a woman's identity," she says.  "When you add an infectious disease such as TB to it, it also questions your moral character, because there are so many myths surrounding how you get it."
In her Indian culture specifically, Rao explains that diseases such as TB suggest that a person lives an unclean lifestyle, or that the gods intended such suffering as punishment for past misdeeds.
For these reasons, Rao spent the first few months of her TB treatment feeling physically and emotionally deflated.  Soon, however, she began conducting a great deal of independent online research on the causes and, more importantly, the repercussions of TB.
After educating herself on the greater implications of the disease that had stripped her of maternity, she found that TB is so much more than simply a sickness on the individual level; it is a real social disease that perpetuates worldwide inequalities.
"It's a highly stigmatized disease in so many countries around the world, especially in South Asian communities, which is the community I belong to," Rao explains.
In her own experience, Rao says, "When I would be in social situations in the South Asian community or talk to my extended family in South India…a lot of people would advise me against [speaking publicly about my disease], and in fact I got a feeling that me talking about it would somehow reflect badly on them."
Still, she was blessed with a very encouraging family support system in her husband, her two sisters-in-law and their respective families in Boston and London, and her own family back in India.
By 2007, Rao was TB-free, and with her newfound interest in sociology, made a commitment to herself that she would dedicate her time and energy to do what she could to help eliminate the stigma surrounding her recently-overcome disease.
"The social experience of stigma and what I found in so many other articles really helped me make up my mind that this is something I have to talk about," she explains, "because not many other TB patients may have the support that I have to talk about it."
She had learned the true impact she could have if she shared her story publicly, since very few survivors feel they can do so out of fear of being isolated from their families and friends.
Rao says that because she is equipped with a "support system that allowed me to really come out of it relatively unscathed, compared to what other people go through around the world, I feel like it is my responsibility to talk if I can for all those around the world who cannot talk."
She began by sharing her story with her colleagues at Drumthwacket, who had close relationships with the press from working in the political environment, and one of them mentioned to a reporter that Rao had suffered from a rare form of TB.
This remark turned into an interview, and the interview soon transformed into a published profile of Rao by Pulitzer Prize-winning journalist Amy Ellis Nutt, which graced the front page of New Jersey-based newspaper The Star-Ledger's Sunday edition on March 26, 2007.
This article, in turn, attracted the attention of the NJ State Department of Heath and Senior Services, which invited Rao to consult with them on the issue of health disparities by sharing her cultural understanding of such diseases as tuberculosis.
This interaction opened the door to many more advocacy opportunities for Rao, who went on to partner with six other activists, and together they founded the nonprofit organization South Asian Total Health Initiative (SATHI), based out of RWJ Medical School – UMDNJ.  This organization, established in 2009, aims to raise awareness about diseases that affect South Asians, while also addressing health disparities in the South Asian community.
After this, says Rao, "the ball really started rolling, where one thing followed another; I started seeking more publicly, [and] more organizations started showing interest in my story and inviting me to speak."
In 2010, SATHI organized the conference Addressing Health Disparities and Health Literacy in the South Asian Community—the first conference of its kind in New Jersey.  Rao's involvement included serving on the conference planning committee, facilitating a workshop on tuberculosis, and co-writing the report and recommendations that resulted from the conference, meant to help medical providers understand the health challenges in the South Asian community.
Then, just as life was looking up for Rao—who had found a new passion in advocacy when her hopes for a family fell through—a change in administration ended her career at the NJ Governor's mansion in 2010.
"When I lost my job, I was quite devastated; as someone who came to the country not too many years back, we were just starting to feel better," she says.  "I felt dejected in so many ways."
But Rao did not remain crestfallen for long; instead, she took a perceived misfortune and again turned it into a wonderful opportunity to better educate herself, and, in turn, the world she lives in.
"I always wanted to come to TCNJ," says Rao.  "I would always look at it with such hope every time I drove by, I didn't know at that time I would be in such a fine institution."
Once she discovered that as a taxpayer, part of her unemployment benefits granted her a tuition waiver to attend any state college or university, she was able to take the first steps toward making at least this dream a reality.
"I never imagined I would find myself [at TCNJ], but I applied and I went through the process and my application was accepted," she says.
But the transition back to school was not an easy one for Rao.  First, it took many months for Rao to get all of her transcripts sent from India to TCNJ, and then even longer for these foreign credits to be evaluated.  In the meantime, she took two basic English writing courses at Mercer County Community College to ease herself back into the academic world.
After being accepted, Rao faced more challenges still, as TCNJ's policy for accepting the tuition waiver stipulates that students like Rao cannot register until the first day of classes, while traditional students are able to enroll as far as four months in advance.
"This policy barrier that often ends up causing me a lot of stress and anxiety every semester when I register," says Rao, who often has to miss the first few weeks of class waiting for another student to drop out, because the seats in her required courses typically fill up well before the first day of the semester.
Sometimes she gets shut out completely, forced to wait until the next semester or even the next year to take the course she needs.  This becomes especially troublesome for Rao when she is unable to enroll in prerequisite courses, which are required in order to progress sequentially to higher-level classes.
Consequentially, Rao has taken advantage of classes as often as TCNJ can offer them.  Between fall semester, winter session, spring semester, maymester, and summer session courses, she says she has only had one week of vacation in the two years since she has returned to college.
This dedication is not surprising, as Rao is no stranger to having to work hard and overcome obstacles when it comes to pursuing an education.  When she attended college the first time around in Mumbai, India, she worked part-time as a manager at a local flower shop to fund her tuition expenses.
"I started working when I was 17 because I've always had the need to be financially independent," she says. "It's just something I've always wanted to do."
Still, the 12-hour days were not a cakewalk for Rao, who spent time in class from 8:00 a.m. to 2:00 p.m., before heading straight for work at the flower shop from 2:00 p.m. to 8:00 p.m., only to repeat this cycle the very next day.
By the time Rao was 20, the owner of the flower shop was ready to retire, leaving Rao with the extraordinary opportunity to take over the business.
"It was a wonderful opportunity for me to be financially self-sufficient in many ways at such a young age," she says, so she left college and spent the next seven years doing exactly that.  She had helped significantly grow the business, making it the first flower shop in India to sell flowers online, before selling her share and moving to America to be with her husband.
With this triumphal experience shaping her past, Rao refuses to let administrative or policy barriers at TCNJ—as frustrating as they can be—deter her,
"I'm not afraid of hard work; as long as there is a way, I feel like I can at least give it my best shot," she explains.
Luckily, she has also received much assistance from TCNJ faculty, and says, "I am so thankful to HSS and to Chair Dr. Borland, who has been nothing but supportive in every and any way, even if it's just moral support."
But Rao still hopes there is a way to make changes at the policy level to help better accommodate tuition waiver students, in the fairest way possible, so that those students who come after her are not discouraged.
While continuing her education, Rao continues to be extremely involved in many levels of TB advocacy work.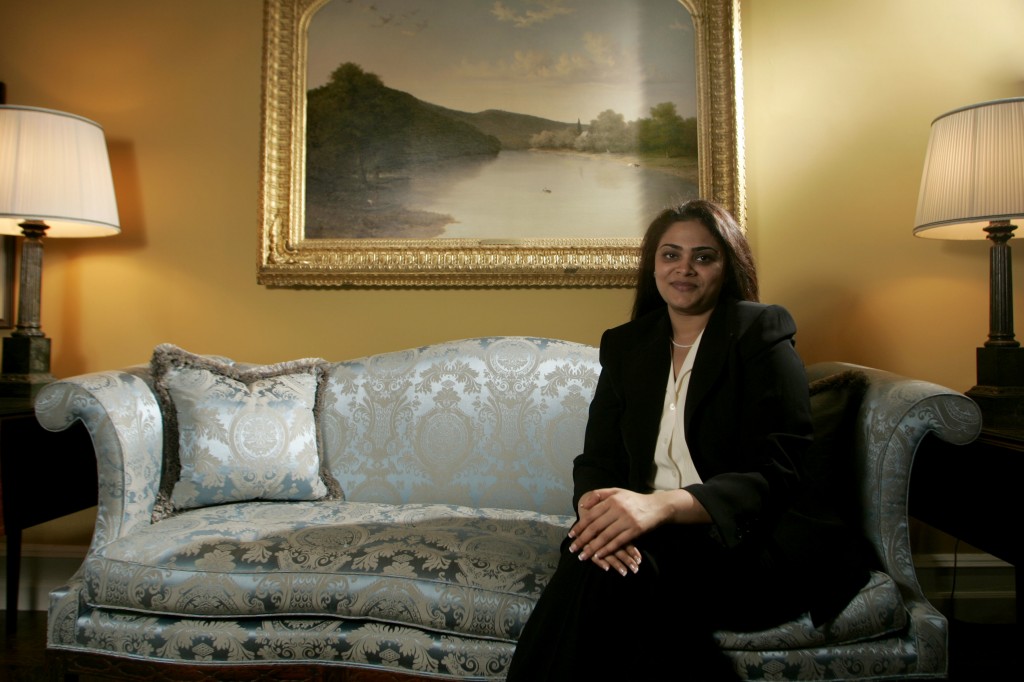 In 2010, she was invited by Results, a non-profit organization based in Washington, D.C., to participate in media training provided by a grant from the Bill and Melinda Gates Foundation for advocacy to eliminate tuberculosis.  Soon after, she was invited to speak at the World TB Day Advocacy Tour in Denver, Colorado.
In October 2011, she attended the Annual Northeast TB Controllers Association conference in Cleveland, Ohio, as their guest speaker.
She is now a regular guest speaker at the medical training conferences hosted by the New Jersey Medical School Global Tuberculosis Institute in Newark, providing patient perspective.
In addition, she also volunteers as a board member of Womanspace, an organization in Mercer County that serves victims of domestic violence and sexual abuse, and as an advisory committee member of Shri Krishna Nidhi [SKN] Foundation, a nonprofit organization based in New Jersey that works to help promote the overall good health of the South Asian community.
Most recently, she served on the STOP TB USA coordinating board, attending the first meeting in Vancouver on February 27th and 28th, and was the keynote speaker at the first World TB Day Walk on March 23rd in New York City.
Through such extensive advocacy work, Rao says she strives to represent the interests of all those who suffer from tuberculosis, in an attempt to bring about social change.
"Our world is so global now," she explains. "Our students are traveling abroad every semester. They are going to countries where there are perhaps conditions that do not exist in the U.S. and vice versa. [We need to] look at issues in more global, universal matter."
"In 2011, there were an estimated 8.7 million new cases of TB… and 1.4 million people died from TB," according to the World Health Organization's Global Tuberculosis Report 2012.
The Centers for Disease Control and Prevention's webpage "Basic TB Facts" explains how tuberculosis is spread: "TB bacteria are put into the air when a person with TB disease of the lungs or throat coughs, sneezes, speaks, or sings. People nearby may breathe in these bacteria and become infected."
Global awareness is exceedingly important when considering an airborne disease like TB. "You can't insulate yourself from the world," she says. "We share the same airspace."
Moreover, "It's a humanitarian issue; it's a disease we know such much about and it is preventable, treatable and diagnosable," says Rao, "yet we are not able to save lives. It's an outrage."
"TB is one of the top killers of women," the World Health Organization also reports, "with 300,000 deaths among HIV-negative women and 200,000 deaths among HIV-positive women in 2011."
Rao is proud of the role she can personally play in TB advocacy efforts. "I say, 'Look at me. This is my face; this is what TB does," she explains. "Maybe in the first world countries it doesn't take people's lives, but it still affects us."
Indeed, it has left its mark on Rao, who still says, "Every time I go to a baby shower or hear of a friend who has a baby, a dagger goes through me."
She continues, "The disease you can overcome, but the emotional and psychological trauma that a patient experiences; it never somehow leaves you, because it's such a social disease and has such a social implication to it."
So when she attends conferences, speaks at conventions, or serves on planning boards, Rao says, "I am going to come in with a former TB patient's perspective, so I hope to contribute in a way that I bring the voice of other TB patients to the table in all the efforts for research and policy."
From her experience, she explains that "meeting abroad, such as [in Vancouver], when you have so many medical experts, the conversation revolves around the disease and the people or the faces around those diseases are sometimes forgotten."
Rao hopes to serve as their reality check, reminding them to "look at the disease, but also look at the person who is affected by the disease."
With these ultimate goals in mind, Rao wrote in an email: "My passion for social issues that have the potential of bringing about change has left no doubt in my mind that a degree in sociology and public health will help me better understand the problems that exist in a society. I am convinced that this education will help me to contribute in a more efficient and effective way."
Looking ahead, Rao—who is set to graduate from TCNJ after the Fall 2013 semester—says, "I want to keep going. I want to look for a job, hopefully in the field of public health, and I want to continue my education also in the field of public health; a master's degree and, I dare say, a doctorate."
"Perhaps my illness has opened up this interest, which I guess was always there under the surface, but my experience really brought my interest in public health to the forefront," says Rao, reflecting on the considerable change of course her life has taken during the past eight years. "I feel this is my calling now."