Initiated in 2000 at TCNJ, the nationally-recognized Women in Learning and Leadership (WILL) program has since brought to bear more than 170 graduates, many of whom are now women of prominence in society.
WILL students  start the program as freshmen and throughout their four years  take a number of classes that focus broadly on women's involvement throughout the world. Core topics in these classes, mainly in the Women's and Gender Studies department, include women in politics, history, theory and literature.
"We have a real commitment to social justice issues and of course to women's rights," explained WILL program director and associate WGS professor, Mary Lynn Hopps.
Professor Hopps cited WILL's International Solidarity Projects as an example of this. The program began in 2007 as a combined effort of the WILL student organization and its academic corollaries, and it has driven WILL students ever since to partake in service activities abroad. Through this experience, students have come to understand the crucial relationship between U.S. policies and Latin America's state of affairs.
"It's a  about literally walking in solidarity with…the women and learning about their..conditions and their concerns," Professor Hopps said. It is this opportunity to lend a hand and  "support their movements without interfering," that has given WILL students the means to achieve realistic goals in society, according to Professor Hopps.
In fact, every graduating class creates their own handbook on how to formulate a grassroots activism project. This experience allows students the practical awareness of global and local activism not otherwise guaranteed to the average college student.
With their curricular and extracurricular work combined, WILL graduates from TCNJ have been successful in the diverse array of field they go in to.
Of the 177 alumnae still regularly in touch with the organization, 61 are in the process of or have completed a graduate degree, 14 have their M.D., 8 have their Ph.D., 13 are certified lawyers, 17 are teachers, and 1 is even a dentist.
"The student organization is about…service," Professor Hopps said. "So we really focus on service to not only the local community but to the international community."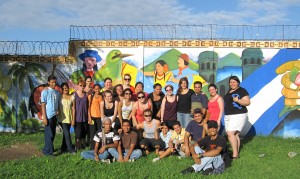 In addition, WILL students are required to take an internship during their time at TCNJ, which, according to Professor Hopps, lands most students at places like Planned Parenthood and even in legislator's offices.
WILL students have also put on performances of Eve Ensler's The Vagina Monologues for 11 years, raising close to $100,000 donated to organizations that work to end violence against women and girls, according to Professor Hopps.
The combination of service experience with training in activism, leadership, and critical thinking has clearly prepared WILL student's to take society by storm.