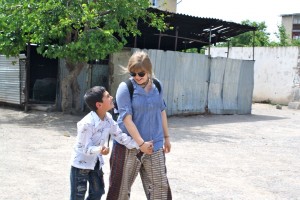 One of our very own HSS students, Britta Nippert, has proven to the world that the millennial generation can and will go beyond expectations to make a difference in the world. In fact, the Huffington Post picked up on her and Biology student Okxana Cordova-Hoyos' efforts in a history-altering service project.
This past summer Britta and Okxana worked as one of America's Unofficial Ambassadors in Tajikistan where she volunteered for IRODA, the country's one and only center that supports autistic children. The dynamic duo created IRODA's first website, and in doing so satisfied a primary goal of the organization's parent-driven committee.
"Students like Britta are interested not only in acquiring skills to apply to a future career here in the U.S.," said Dr. Jo-Ann Gross (History), who has guided Britta to her involvement in Central Asian studies. Dr. Gross even chaperoned a Maymester to Uzbekistan and Tajikistan called the "Silk Road Study Tour," which Britta took part in.
"I was originally drawn to Tajikistan and Central Asia because it is a relatively inaccessible place to travel as an American," said Britta, a Self-Designed Religious Studies Major with a concentration on Islam and a minor in Arabic Studies. "Therefore, [the study trip] was an incredible opportunity for me to connect more realistically with my studies."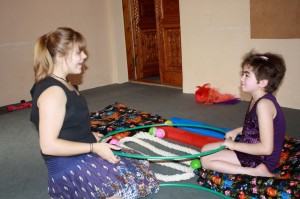 Arriving back in the U.S. after Dr. Gross's study tour, Britta knew she needed to get back. She became TCNJ's American Unofficial Ambassador and, spreading the word around campus, she was brought by the UAU organization to launch a post in Tajikistan.
"I specifically chose to work at IRODA…because I had read the story of IRODA and it seemed to be the most meaningful work I could do in that country at this time," she explained. "Additionally…IRODA was the only place I could implement Circus Therapy."
This distinct therapy "utilizes the patterns and repetition of Circus and Flow arts to improve social, motor, emotional, and cognitive skills," according to Britta.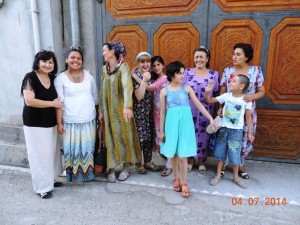 Okxana's Central Asian motivations began after having taken Dr. Gross's freshman seminar on "Understanding Modern Iran" last fall.
"Everything Dr. Gross said about IRODA and how it was founded really struck a cord in me," said Okxana of her motivations, "I've volunteered before at a pediatric facility and loved it so I wanted to see how I would do at a center for autistic kids."
With dreams of working for Doctors Without Borders, Okxana immersed herself in what turned out to be a wholly transformative abroad experience.
"I went for IRODA but the country has a way of making you love it with its culture, mountains and especially its people," Okxana explained.
"They are…interested in discovering the world, expanding their cultural horizons, learning non-traditional languages, developing and applying skills to make a difference in less privileged communities in the US and globally," said Dr. Gross. In addition, these two exemplary students have now brought "their experiences back home to share with their fellow students, families, and communities," as Dr. Gross has pointed out.