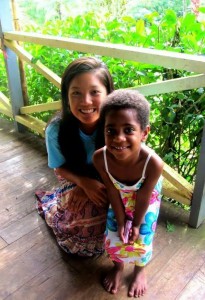 Lea Chin, 2014 Sociology graduate, is taking a momentous leap from her U.S. home all the way across the globe to Vanuatu, Oceania. Starting in January, Lea will be involved in a secondary education project for the Peace Corps (P.C.) in Vanuatu, which is one of the most geographically isolated posts.
Of course, not all reactions to this incredible opportunity were positive.
"My family has always been extremely supportive in everything I've wanted to do. They back me 100% always," says Lea. "However, my dad was pretty upset when he found out not only would there be no WiFi, but there might be a possibility of no electricity either in Vanuatu."
Fortunately, all P.C. volunteers that serve on remote islands like Vanuatu are given satellite phones for security and speedy communication, a fact which has brought the smiles back to all of Lea's family's faces.
"Even though I know my dad is worried, I know he's really proud of me. My mom, brother, and grandma are all super excited, proud, and happy for me," explains Lea.
Yet, Vanuatu, a fairly significant speck on the map, is one of many summits Lea has reached since she walked onto campus. She studied abroad in Fiji, where she explored a rich culture split between Indians and Fijians and made friends with Peace Corps volunteers.
She then came back to TCNJ with some incredible stories under her belt. As a part of her study abroad program, she got to stay in a rural village for a short time and enjoyed the experience so much that she came back before returning to the U.S. to solidify her bonds with the locals she had met.
"During my semester in Fiji I tutored at a local orphanage once a week and got to build relationships with the kids," says Lea. "I have always loved working with kids and knew I wanted to teach abroad so [the Peace Corps] was a perfect fit."
And the list does not end here. Lea is now finishing her senior Sociology seminar while she's doing two internships in New York City that deal with yoga, youth, and individual empowerment through education
"I'm interning with a non profit yoga organization called Urban Yoga Foundation that works to bring yoga to the Harlem community and schools in the nearby areas," says Lea. "Yoga is extremely useful for stress management and has been for me a form of self-therapy."
Here she's practicing community outreach and is even getting her own values and interests involved in her professional experience.  At the moment, Lea is also working for South Bronx United, where she shadows a social worker and teaches ESL and yoga to at-risk youths.
"I'm not exactly sure what I want to do in the long run, but social work is something I've always been interested in as well," Lea says. "So this internship will help me see if that's something I want to pursue after the P.C."
What is impressive is that Lea hopes to bring these skills to Vanuatu. Above all, this alumna continues to prove that at TCNJ it is possible–and very much encouraged–to be a champion of professional growth.
"I think its great that Tcnj had so many opportunities for me to go abroad and volunteer because without those experiences, I don't know where I'd be now," Lea says. "Without these experiences, I don't know if I would have known how much I love to learn about different cultures and how much I love working with youth. Without these experiences I don't know if I would have been invited to the P.C. So, I have TCNJ to thank."