Stephen Rodriguez, junior, Carly Kalman, junior, and Zach Dzierzgowski, junior leading a simultaneous translation of a museum tour in Alcalá

For the past few months, an exceptional group of students has been taking classes and doing community service with the local immigrant population during a faculty-led semester to University of Alcalá de Henares in Alcalá, Spain. Students across HSS took classes in Spanish in a variety of disciplines. The trip was led by TCNJ professors Chris Ault (IMM) and Ann Warner-Ault (Spanish), who shared with us the details of these students' unique accomplishments.

Of their notable experiences, TCNJ students at the University of Alcalá took part in a conference sponsored by the Instituto Franklin, a department of the University that studies North America. They participated in two major events at the conference: simultaneous translation and a student-led museum tour.
"The students who provided simultaneous translation for the conference are taking a class about translation and interpretation. It was a huge deal for the students to provide the translation considering all the dignitaries attending the conference," said Prof. Warner-Ault.

"The Instituto Franklin hosted their first international conference on the historical links between USA and Spain," explained Cristina Cernadas, junior Spanish and Secondary Education double major.

Outside of this conference, students have been focused on several different service-learning projects through one of three classes taught by Prof. Warner-Ault and IMM Professor Chris Ault. Those classes are as follows:

SPA 270: Technology and Culture (Ann Warner-Ault)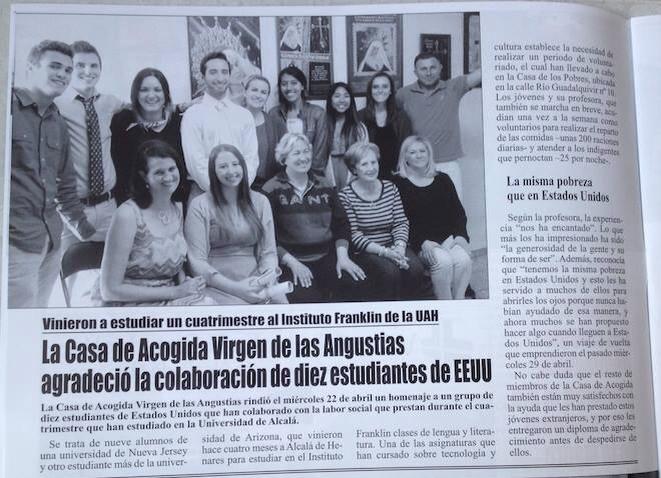 Students are spending the semester working with a homeless shelter and soup kitchen to design and implement a new website for them. Students are volunteering at the organization and interviewing directors and volunteers. They're shooting video, taking photos, writing code and creating a new graphic identity for the organization to incorporate into the new website. Last week the organization, La Casa de Acogida recognized them with a reception and gave them all certificates recognizing their work.

SPA 302: Advanced Oral Proficiency: Immigration in Contemporary Spain (Ann Warner-Ault)
"Advanced Oral Proficiency," is designed for upper-level students of Spanish who received a minimum of intermediate-mid on the ACTFL oral proficiency interview at the beginning of the semester. This course uses the topic of immigration as a means for students to learn about contemporary Spain and to reflect on their own experiences living in a foreign country. Alcalá de Henares actually has a large immigrant population, so as part of this course students are designing and teaching Spanish language and job readiness classes to immigrants with a local governmental agency that provides social services.

"The organization where the students are working is called CEPI, Centro de Participación e Integración de la Comunidad de Madrid," said Prof. Warner-Ault.
IMM 370: "The High Tech Expatriate" (Chris Ault)
"The High Tech Expatriate" explores how digital media, ubiquitous computing and constant online connectivity has changed the experience of living, studying and traveling abroad. Students are building on this research and analysis to develop a proof-of-concept for a mobile app for the Instituto Franklin that allows current study-abroad students to benefit from the unique experiences and insights of previous students.
We got to hear from these students about their experiences with the service learning and Instituto Franklin conference:
"Tell me about how it was to provide simultaneous translation at the Instituto Franklin Conference. What did you translate specifically? What did you take away from the experience?"
Cristina Cernadas:
The simultaneous interpretation was a once in a lifetime experience. Our task was to interpret from Spanish to English during a book presentation and a round table discussion that followed.
I think I can say on behalf of all of us that we were all a little bit nervous the morning of the conference, nervous about making a mistake and being unhelpful to those listening in. At the end, it was an amazing learning experience that we will never forget. It definitely opened a new door of possibilities that a Spanish degree can offer.

Carly Kalman, junior Special Education and Spanish double major:
The experience during the Conference was incredible. I simultaneously interpreted a speech about the photo exhibit that describes the connections and interactions between the U.S. and Spain during the Cold War, starting with the introduction of the military bases in Spain up until Spain's transition to a democracy.
As nervous as I was, it was amazing to feel the stress and excitement that interpretors feel every day. It was also great to know that my Spanish has improved to a level where I can do such a thing as this. We spent weeks preparing for this and it is a day that I will never forget. 
"What sort of job readiness skills did you teach to immigrants at Centro de Integración y Participación? What did you take away from that experience?"
Cristina:
Some of the job readiness topics included how to prepare a resume, how to present yourself at an interview, and sample questions that could come up in an interview. Some of the topics included transportation vocabulary, medical vocabulary to be able to visit the doctors and communicate their needs, shopping and food vocabulary to be able to go food shopping in the local supermarket. We built a syllabus for our two classes to keep track of what we taught. This experience was very rewarding for myself and my classmates.
On top of being able to help the students, at the same time we were practicing our own Spanish. All the students lived in Alcalá, the town where we were living and studying, we even ran into some of them outside of class and it was nice to see that they recognized and greeted us as friends. They were so thankful for the work that we did and that was the best feeling for us.
Carly:
During the job readiness classes we taught skills that would be useful for the specific students in the class. For example, we did one class on how to write a resume in Spanish, one class about typical interview questions and how to answer them, and another about how to dress and prepare for interviews. None of the students have jobs in Spain so we geared it to their needs.
It felt amazing to see how grateful the students were and I know that they will use the skills they learned to get jobs and improve their lives in Spain. It was also great because we were able to easily relate to the students, as we were both outsiders to the spanish culture and way of life, so we shared stories and knew how they felt. 
"Why do you think study abroad is important for students?"

As far as the experience of study abroad I could go on forever! Students have learned a lot about themselves and have grown so much in four months. They have become involved with the community with volunteer experiences, language exchanges and thorough living with host families. I can't believe how much each student's Spanish has improved over the course of the semester.
Many of them now feel like Spain is a second home and they are very sorry to leave.  As a result of this experience many of them have decided to pursue new career paths that will include living and working abroad."

Finally, the TCNJ students along with Dr. Warner-Ault helped create English standardized tests for the city of Madrid.

"I think it's pretty impressive that now our voices will be heard in schools throughout Madrid," Cristina Cernadas said.

---
—Story and Interviews by Jack Meyers
—Photography courtesy of the Department of World Languages and Cultures