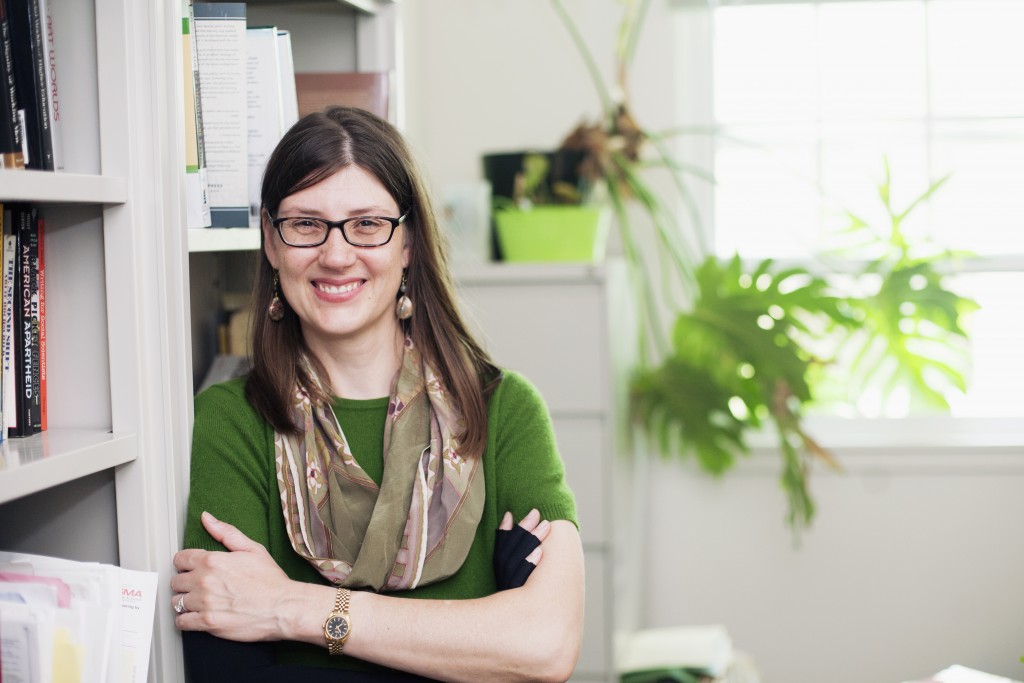 Earlier this month, the National Science Foundation awarded sociology professor Lynn Gazley and her interdisciplinary team a major grant for their proposal, "FIRSTS (Foundation for Increasing and Retaining STEM Students) Program: A bridge program to study the sociological development of science identities."
In conjunction with professors in the sciences, including Sudhir Nayak (biology), Benny Chan (chemistry), Monisha Pulimood (computer science) and Suriza Van der Sandt (mathematics and statistics), the grant will fund a three-year project, which will officially begin in January 2016.
"We have noticed over time at TCNJ, (as well as) across all colleges and universities, (that) students who are coming from low socioeconomic backgrounds are the most vulnerable to leaving the STEM majors (like) science, technology, engineering and math," Gazley said. "This project is specifically targeting students who are coming from these low socioeconomic backgrounds to support them in transitioning to TCNJ and making it through their STEM majors."
A large part of their project lies in creating a summer bridge program, which the team has piloted for two years in collaboration with the College's Educational Opportunity Fund (EOF).
The bridge program is a six-week experience where students come to the College the summer before their freshman year to take classes with Nayak and Chan in biology and chemistry, as well as a math and writing course so students can gain understanding of college level classes, study skills and available resources on campus. This is possible in part by the ongoing involvement by the EOF program.
"This grant project will expand that and allow us to study it carefully to be able to gain generalized knowledge both for us here at TCNJ for how best to do this but then also for colleges like us around the country," Gazley said. "The expertise I bring is in understanding the social mechanisms that can lead to persistence and resilience in these majors. My background in studying diversity in science, both nationally and internationally, (helps to) see patterns within the undergraduate population that we're studying here."
In the fall, the student's transition will continue with enrollment into science-based First Seminar Programs (FSPs), which will help to sharpen their writing skills on science and math topics. Students will also be supported with access to on-campus jobs as peer mentors, tutors and lab assistants so they can earn money in a way that is oriented towards their future professions.
"Alongside this project, we're doing an extensive research study (where) we'll be interviewing students each year as they progress through college," Gazley said. "We'll be looking at mentoring networks they form, work plans, family responsibilities, all the kinds of things that may get in the way of being the most successful student possible. We'll look carefully at some of the things that TCNJ can do better to support these students and any structural changes that we can make to make it possible for all of our students to be successful."
A key factor the National Science Foundation looks for when awarding these grants is strong social science research incorporated in the proposal, something Gazley was eager to contribute to due to her field of study.
"She has a stream of research that's really interested in science education, so she's interested particularly in the science pipeline and how students who are from disadvantaged backgrounds and less represented backgrounds haven't been staying in the pipeline for science jobs," said Dr. Elizabeth Borland, chair of the Department of Sociology and Anthropology. "It's a big problem in general for engineering, for science professions, for academia — we need that talent."
Beginning her fourth year at the College this fall, Gazley will continue meaningful work inside and outside the classrooms where she teaches.
"She's an incredibly dynamic teacher who cares deeply about her students," Borland said. "To see her in the classroom is to see how engaged students can (be when) thinking about health issues and global injustice."
Story and interviews by Kimberly Ilkowski
Photography by Sarah Ratner