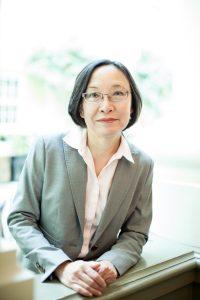 At the end of the summer of 2016, incoming TCNJ freshmen packed up their belongings to head off into the exciting unknown of the next chapter of their lives. Equipped with seemingly endless opportunities, resources and friendly faces, the transition, albeit daunting, became one of ease. Such is also the case for many of the College's new faculty and staff members who joined us for the first time in the fall semester, including the new dean of the School of Humanities and Social Sciences — Dr. Jane Wong.
As the former interim dean of the College of Science and Technology and former head of the psychology department at Armstrong State University in Savannah, Georgia, Dean Wong has tremendous experience in administration that has helped her easily adjust to her new role. While some new policies and procedures may have taken time to learn, they built on principles of leadership and service already reflected in Dean Wong's work.
One of the highlights of her first semester as Dean has been the outpouring of support from students to help wherever needed, lending a hand at events and offering guidance to new students.
"First semester was really great — I met great faculty and great students," Dean Wong said. "For my welcome to the Class of 2020 on convocation day, I reached out to ask for student volunteers to serve on a panel to help welcome the incoming freshmen. Everyone I reached out to enthusiastically said yes and that was very inspiring and encouraging for me — they did a fantastic job."
The students aren't the only ones who have impressed Dean Wong and immersed her into life in the School of Humanities and Social Sciences. The faculty and staff have also shown great dedication that has motivated Dean Wong to collaborate with them to create more meaningful experiences for the campus community.
"Most of the faculty is incredibly dedicated to engaging students not just in the classroom but outside the classroom," Dean Wong said. "They mentor internships, (conduct) research, some do faculty-led study abroad and some faculty publish articles with their students giving them a leg up on grad school applications and in job applications."
Dean Wong sees an opportunity to grow these programs even further and she wants to lend a hand in making faculty goals a reality.
"I'm hoping to engage the faculty and department chairs in more conversation about possible new directions, new courses and new experiences they would like to do in the year ahead, maybe seeing what types of signature experiences faculty would like to do that they haven't done either because lack of support or lack of funding or lack of knowledge — I could help troubleshoot so they could do things they've wanted to do but just haven't had a chance yet," Dean Wong said.
She also wants to maintain a longstanding HSS tradition of celebrating students' academic work and achievement. Early in the fall, she met with students for an ice cream social to celebrate the spring Dean's List recipients. This emphasis on providing outlets for students and faculty to bond and discuss ideas is something we will hopefully see much more of in the seasons to come.
Each spring, the College hosts a student achievement awards event across all schools and majors and Dean Wong believes it could be the perfect time to bring all of the outstanding HSS students together.
"I have given some thought, nothing is set yet, but maybe (having) a reception for just the HSS students afterward, maybe a cookies and tea thing so that the students and faculty could get together in our atrium to talk in a more intimate group," she said.
There's certainly a lot to look forward to in the months ahead, and Dean Wong wants to experience it all.
"What I hope is that I would get to know more students and faculty," Dean Wong said. "I'm hoping that my office hours will be utilized more and that I'll have more time to walk around and just see students and faculty in action."
With the stressors of transition behind her, Dean Wong is ready to take on this semester and add promising change.
---
Story by Kimberly Ilkowski