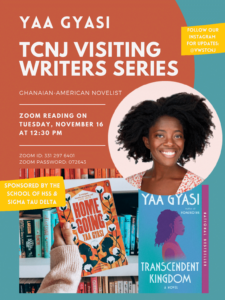 TCNJ's Visiting Writers Series is proud to host a virtual reading by acclaimed novelist Yaa Gyasi on Tuesday, November 16, at 12:30. A Q&A will follow her reading.
Zoom Information:
12:30 pm November 16, 2021
ZOOM ID: 331 297 6401
PASSWORD: 072643
Gyasi's first novel, Homegoing (2016), captured readers and critics alike with its searing portrayal of slavery's legacy.  In chapters as distinct and memorable as short stories, Gyasi covers 250 years of history, telling the story of two sisters and their descendants. One sister is enslaved in a West African castle dungeon, and one lives above the dungeon in the castle itself, married to a British governor. Ta Ne-hisi Coates raves about the book's importance:
 "I think I needed to read a book like this to remember what is possible.  I think I needed to remember what happens when you pair a gifted literary mind to an epic task. Homegoing is an inspiration." —Ta-Nehisi Coates, National Book Award winning author of Between the World and Me
The Washington Post calls Transcendent Kingdom (2020), Gyasi's second novel, "a book of blazing brilliance." It tells the story of a Ghanaian family that immigrates to America and settles in Alabama. The daughter narrates the novel as she finishes her PhD in neuroscience at Stanford and is forced to confront her family's history when her struggling mother arrives in California to live with her.  

Yaa Gyasi was born in Mampong, Ghana in 1989 and raised in Huntsville, Alabama. A graduate of Stanford University and the Iowa Writers' Workshop, Gyasi was awarded one of the National Book Foundation's "5 Under 35" Awards in 2016.
***
TCNJ's Visiting Writers Series is special because it is planned, hosted, and publicized by the students in the English Department's Writing Communities class. Please take a look at the materials that the Writing Communities students have provided: two event flyers (attached) and a website. With just a few clicks, you can get to know Yaa Gyasi and her work:
https://sites.google.com/tcnj.edu/tcnjvws/home?authuser=0
The event is made possible by funding from the School of Humanities and Social Sciences.