The Pan-Asian Alliance (PAA) and 
Intercultural Affairs
 are proud to be partnering to bring you the second annual
 PAA Talks 
on 
Monday, May 2nd from 7:30PM – 9:30PM 
in Mayo Hall of the Music Building! AAPI (Asian American Pacific Islander) Heritage Month begins in May and we hope to honor the legacies and stories of our peers who share within those cultural heritages.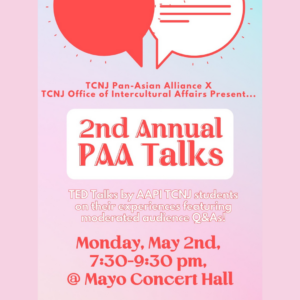 The Pan-Asian Alliance is a collective of TCNJ's Asian cultural student organizations, dedicated to celebrating traditions within the pan-Asian diaspora, as well as speaking to important issues affecting the communities included. PAA Talks began as a virtual event last year in response to the uprise in anti-Asian violence and hostile sentiments, starting in 2020. Our featured student speakers will share stories about their own perspectives and experiences that have been shaped by their Asian identities and cultures.
Our lineup of courageous speakers this year will include:
Allen Hong ('24, Biomedical Engineering)
Lily Drennan ('23, International Studies)
Hafsah Shaik ('22, Psychology)
Kelly Jung ('23, Communication Studies)
Noverah Adeen ('25, Biomedical Engineering)
We will also have remarks given by Mr. James A. Felton III, the Vice President for Inclusive Excellence; Ms. Crystal Tran, President of the Asian American Association; and Dr. Yifeng Hu, Associate Professor for Communication Studies.
Seating will begin at 7:00PM on the night-of the event. If you have any questions, please feel free to contact our event co-chairs, Gabriella Son and Brandon Hoang, at 
inclusion@tcnj.edu
.