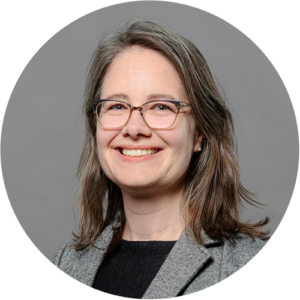 Dr. Lisa R. Grimm is Interim Dean of the School of Humanities and Social Sciences at The College of New Jersey and a professor of psychology. Dr. Grimm joined the TCNJ faculty in 2009 becoming an associate professor in 2014 and a full professor in 2019.   Dr. Grimm's research is focused on understanding the structure and content of mental representations and she is the director of the Motivation, Individual Differences, and Stereotypes in Cognition (MISC) Lab.  TCNJ students collaborate in the lab to examine the influence of individual and motivational differences on cognitive processing by studying how different individual difference variables interact with task environments.   She creates a supportive environment that allows students to grow and develop their own passions.  Three of her former TCNJ lab students hold tenure-track faculty positions and 12 have completed or are completing doctoral programs with many additional students earning Master's degrees. Dr. Grimm has authored over 20 publications and presented at more than 20 conferences.  Because of her interdisciplinary research, Dr. Grimm has reviewed articles and grant/scholarship applications for over 40 different journals and organizations.
Prior to starting her current position in 2023, Dr. Grimm served as the Associate Vice President for Strategy and Planning.  She also served as the Associate Dean for the School of Humanities and Social Sciences for five years, and as the First Seminar Program/Summer Reading Program Coordinator from 2014-2016.
Interim Dean Grimm earned a BA in Psychology from Grinnell College, and an MA and PhD in Cognitive Psychology from the University of Texas at Austin.
For more information:  https://grimm.pages.tcnj.edu/