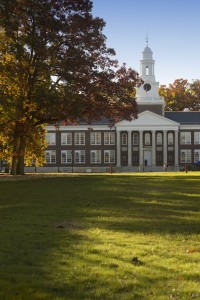 Each year at Commencement, beginning in May 2012, the Dean of the School of Humanities and Liberal Arts presents the DAELA (pronounced "day-luh"), the Dean's Award for Excellence in the Liberal Arts, to graduating seniors who have excelled in the liberal arts. These students have distinguished themselves not only in the classroom, but also in the community. During the course of their college careers, they have become exemplars of the liberal arts mission by:
Developing knowledge and engaging in creative activities;

Studying and contributing to the solutions of local, national, and global problems;

Carefully examining cultural discourses from a variety of perspectives;

Exercising ethical reasoning and compassion;

Participating fully in our democracy; and

Advancing and sustaining their communities.
They have excelled by exploring their communities, contributing to them, and leaving campus for learning and volunteer activities. They have participated in undergraduate research, experiential learning, study abroad, community service, and internships. Many of these students have won other awards, from external organizations, honoring their service beyond the campus community. Thus, in addition to achieving very high grade point averages, evidence of their academic excellence, they have made a difference in their community, here on campus and beyond.
About 27% of Americans have a bachelor's degree or higher. Of those, the vast majority attend large state institutions (often more than one) where they don't have the opportunity or they cannot make the time to take the opportunity to engage in community-based learning, undergraduate research, study abroad, internships, or leadership experiences. DAELA laureates have done all these things while maintaining the highest standards of academic achievement.